More and more people use their Android phone to take pictures and then share them on Facebook, Whatsapp, Pinterest, or Instagram, but many times the photos don't come out very well and need small changes before publishing.
To retouch your photos you need a good photo editing app to improve their appearance.
On the Google Play store, there are many free photo editing apps for Android, but a lot of them don't do their job the way they are supposed to or even worse, they add a watermark (logo) to the edited picture.
Others, so you can continue with the changes, ask you to buy the premium package.
In this article, you can find a collection of free photo editing apps for Android, which add nothing to your photos, and even if some editing tools are for a fee, they at least provide the basic ones and some special effects so that you can edit your photos without spending any money.
Adobe Photoshop Mix, one of the best photo editing apps
It's in the title! Adobe Photoshop Mix is a photo editing app developed by the Adobe Company, which is the developer of the famous Photoshop photo editing program.
Adobe Photoshop Mix allows you to edit images on multiple layers, crop photos, correct them, or combine multiple pictures between them.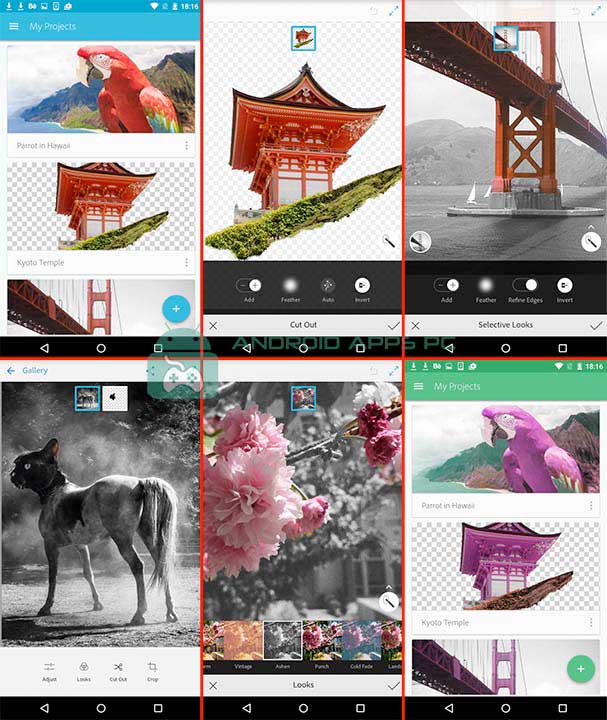 How to use Adobe Photoshop Mix?
First, download and install the app by clicking here.
After you install the app and open it, you need to create an Adobe account. If you already have one, log in with your data, if you don't have an account you can create a quick one using your Facebook or Google Plus data.
The first thing you'll see after logging in is a tutorial that shows you how the app works.
If you don't want to see the tutorial, you can skip it and quickly start editing a photo by tapping the + icon at the bottom right.
After you tap +, the app asks you from where to import the photo you want to edit. You can choose a photo saved on your phone, cloud, or take one with your camera.
Choose the photo you want to edit, and if you want to crop part of your photo, tap crop, choose your dimensions by dragging the edges of your photo, and when you are happy with it, tap the ✔ icon on the left side the screen.
If you tap Adjust, you can correct the picture, such as correcting brightness, contrast, temperature, or clarity.
The Looks option provides you with several photographic filters. Choose the filter you like and when you're satisfied with the result, tap the ✔ icon to save.
To use the other options, for example, to combine 2 photos, read this tutorial on the official Adobe website.
Adobe Photoshop Mix is available for Android and IOS.
Pixlr
We begin this list of free photo editing apps with PIXLR. It's an app full of interesting features, filters and photo editing tools capable of satisfying any taste.
You can also add borders, frames and graphics to photos and create photo collages.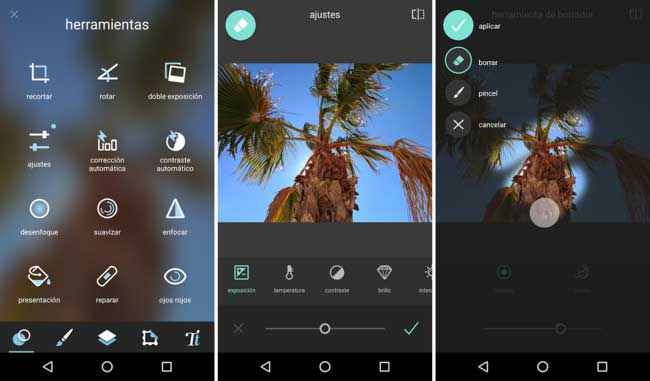 Wondering how to use the PIXLR app? Read on!
Once you have installed and started the app the PIXLR editor turns on with a series of icons placed in the central part of the screen: camera, photos and collage.
If you tap on the camera, you can take a picture with your phone, which then you can edit with the app.
If you tap photos, the app goes to photos on your phone, where you can then choose the photo you want to edit.
If you tap collage, the photos saved on your phone can be selected to make a collage of photos, which means merging multiple photos into one.
Once you've chosen your photo or taken a picture with PIXLR, in order to edit it you must choose the series of tools you need from the bottom menu.
You have 5 tool series, for example by tapping the first icon from the menu below, you can access editing tools such as crop, rotate, remove red eyes and other useful tools.
Tapping the last icon in the bottom menu can add text to your photos.
Once all changes have been done, you can save the end result by simply tapping the top right button, done.
Then select options to save the edited photo to your phone, or you can share it directly online by choosing one of the supported services (Instagram, Facebook, Twitter, etc.).
PIXLR is available For Android and IOS.
Retrica, one of the most used apps to edit photos for free
Retrica is another free photo editing app that provides many Instagram-style effects.
In addition, in Retrica, text can be added to the photos, so they become a true message that can then be published on Facebook or sent with WhatsApp.
Retrica also provides the option to create photo collages, so you can merge multiple photos into one and decorate it with Stickers, add frames and special effects.
The Retrica app has one major disadvantage though: it does not allow editing photos already on your phone, only the photos created by the app itself.
The Retrica photo editing app is free, without advertising ads in the interface, and can be installed from the Google Play store.
LightX Photo Editor, free photo editing app for Android
Whoever is looking for a free, good photo editing app can try Lightx, which provides numerous editing features and special effects.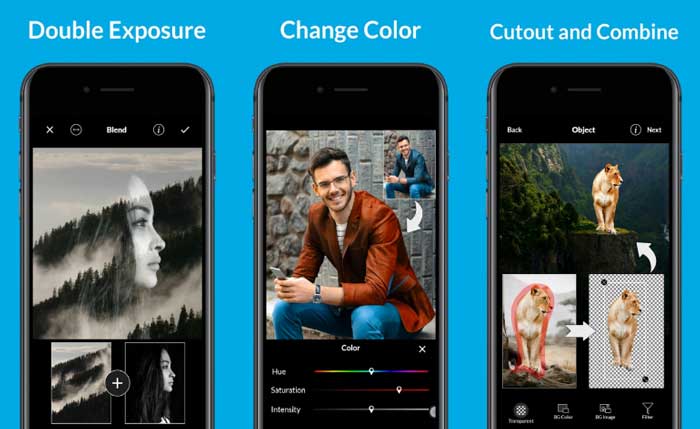 Features of the LightX app highlight: Background removal from a photo, create caricatures (draw and distort the person's face from the photo), merge multiple images into collages (there are numerous predefined templates to choose from), frames, background blurring (focus), colour correction, special effects and much more.
In addition, with LightX you can change the colour of a particular area, for example, a blue coat can become black, you can combine two photos into one obtaining rather unusual effects and improving the appearance of the face in the photo by eliminating wrinkles, pimples, dark circles, whiten teeth and so on.
Even if the free version has some limits (which can be avoided by buying the paid version), it is a good and intuitive photo editing app, recommended to all users, beginners or experts. You can install it from Google Play by clicking here.
Snapseed, free, simple to use photo editing app
With over 50 million installs and over 800,000 reviews, with an average of 4.5 out of 5 stars, Snapseed is one of the best free photo editing apps for Android.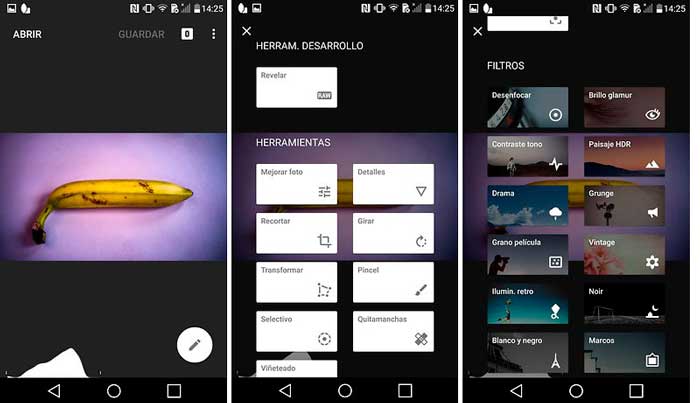 Currently, the app is developed and distributed by Google (which bought the app in 2012) and includes a multitude of tools with which you can perform various photo editing operations, starting with the simplest to the more elaborate, worthy of the best professionals.
The app also includes numerous artistic effects, manual controls of all sorts and real-time tutorials, so you can quickly understand how to use it.
How to use Snapseed
It's very simple! Install it from the Google Play store app, open it and you can immediately import the photo you want to edit.
Choose your photo and an interface will open where you'll see a three-section menu below.
In the LAYOUTS section, you have some filters available that you can quickly apply to your photos. Choose the filter you want, and then tap the check icon (✔) to apply the change.
In the TOOLS section, you can find a range of editing tools, such as rotate, crop, colour correction, some special effects, add text to photos, and more.
To add text to Photos, choose the Text tool, then double-tap to write what you want, and when you're happy with the result tap the tick icon (✔).
The text can be moved anywhere on the photo, you just need to drag it with your finger in the desired position.
When you have finished with your changes, press export to save the photo!
Snapseed is a free, non-advertising app and is available for Android and IOS.
Photo Editor by BeFunky, photos and collages editing app
Its app is also available in the Google Play store, so you can edit your photos directly on your phone.
The interface is clean and intuitive; you immediately know how to use it.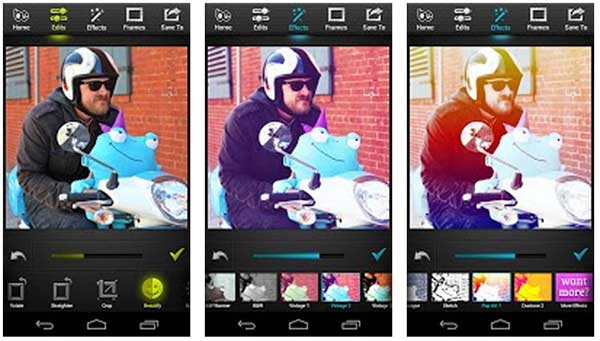 How to use it
The tools are organized into two categories: PHOTO EDITOR and COLLAGE MAKER.
In PHOTO EDITOR, you can find editing tools, starting with basic ones, such as crop, rotate, contrast, shading an area, add text, and finishing with some special effects and some beautifying tools.
The editing tools are really many, capable of satisfying even the most demanding users.
In COLLAGE MAKER you can create photo collages, that is, to merge some photos into a single image, which can have different shapes.
After you choose the pictures for the collage, you can add text, frames, graphics, and more to your collage.
Edited photos can be saved on your phone or shared online on Instagram, Facebook, or different cloud storage services.
BeFunky can be downloaded from the Google Play store by clicking here.
PhotoFunia, a simple photo editing app
With PhotoFunia you can edit your photos by changing the background, adding your face from a photo to other bodies, or adding your body to other scenarios.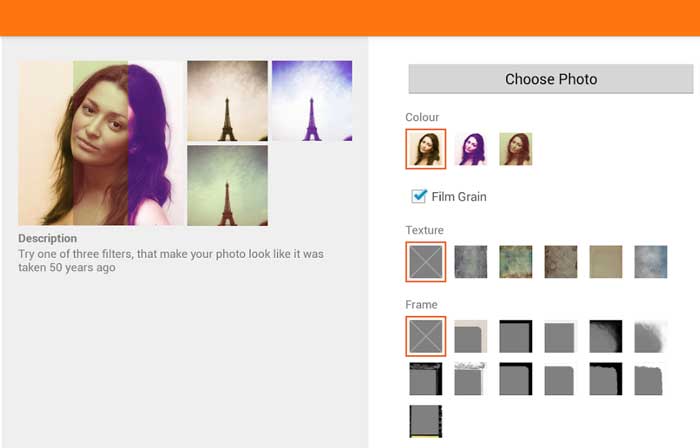 You can add your face to a movie poster, magazine cover, newspaper, famous paintings from museums, scenes with famous characters, create a photo collage and much more.
The app does not offer advanced editing tools; basically, you can just change the background of your photo with a fun one.
To install Photofunia on your phone from the Play store tap on this link.