PDF submission sites have grown in demand since people came to know that PDF submission websites are effective SEO strategy to build quality links and get ranked on top of Google with minimal efforts.
You can upload your files on document sharing websites and get a link back to your article easily. This can help you boost your ranking on Google SERPs.
These PDF submission websites allows documents be uploaded in formats including *.pdf, *.odt and *.docx
If you have a worthy piece of article or a research paper you can upload it for a price to earn money by selling or upload it for free to get a sweet high quality and High DA backlink from such a high traffic website. PDF Submission websites are a great idea to get instant Dofollow and high quality backlinks for your keyword.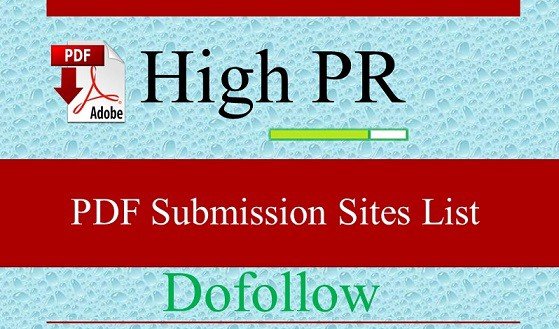 Most of the document sharing and PDF submission websites are instant approval ones. That means if you upload any document on their platform like Scribd, Issuu or slideshare, they would be instantly visible with your link unless you violate their TOS.
Benefits of using PDF Submission Sites for SEO
So you don't have to wait weeks or months for your backlinks to appear and make a positive impact on your website ranking. Due to the high authority of these PDF submission websites, the documents with links are indexed quite quickly giving you an instant boost in traffic. Thus increasing your website overall Domain Authority, helping you get more visibility in search engines and to gain top ranking for your website for specific keyword  in Google.
Fast Indexation of your uploaded document (containing your backlink)
No Fear of Duplication by submitting the same document to more than one pdf submission sites
Perk of adding affiliate links to your document legally
Possibility to utilize flashy and multimedia in your content.
High DA means more powerful links passing link juice to your website.
PDF Submission Tips
Using PDF submission sites for improving your SEO is a great idea. But make sure you don't abuse it too much otherwise you could be penalized by Google. Some of the tips while submitting your documents for upload on these PDF uploading websites are listed here.
Convert PDFs to Readable Text
Make sure any pdf document you want to upload must be in a readable text and not an image. In case you have scanned the book or document, you can convert it in a readable text with the help of Adobe OCR (Optical Character Recognition). In this way the document or piece of content you would upload could be read and interpreted by Google and Bing bots thus improving your chances of better visibility.
Don't just use a simple Title for your document. Make sure to insert keyword in your title and make the title clickable and appealing to the visitor. The better and more keyword rich the document title would be, the higher click through rate you would get on your document resulting in more free traffic.
Also a lot of PDF submission websites allow to use document tags. Use tags wisely and keep user intent in mind. Tags help people find the most relevant article a user is looking for. Use maximum number of appropriate tags relevant to your keywords to increase your chances of being found.
Do not SPAM
Make sure not to SPAM any of these PDF submission website or directory. This might result in permanent account banning or you being kicked from Google SERPs altogether. Never upload a document for the sake of backlinks only. Try to solve user problems or assist them in anyway. Using PDF submission websites the right way can yield great and promising results in the form of getting more authority of your website.
List of High Quality High DA Do Follow PDF Submission Websites 2019
Here is the list of high quality and High DA/PA Do Follow PDF Submission Websites to increase your website ranking and authority in 2019.
[table id=2 /]
PDF files submitted in this manner not only improves your SEO off page but also helps diversify your backlink building efforts.