Many Windows user get an annoying Message "Windows 7 Build 7600 This copy of Windows is not genuine". This may occur if your licence has expired or you are not running the genuine version (Copy) of Windows. Moreover, this may occur if you are using Windows bought from a third party e-commerce store. So, you should avoid purchasing windows from any third party. Other than this Windows 7 not genuine error can also appear after Windows build 7601 KB971033 Update.
In all the above mentioned cases, you get an error "This copy of Windows is not genuine" and your background automatically turns to Black Screen. The methods discussed below can only remove this error and and fix black background. But keep in mind that they would not convert the cracked copy of Windows to genuine copy.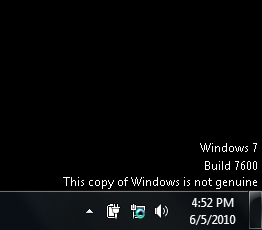 How to fix Windows 7 Not Genuine Error
No Doubt that there are a number of methods to fix windows 7 not genuine error but most of them are not effective and can cause damage to your Software. TechinReview provides you the best, safe and reliable methods to fix this error.
1. By 'SLMGR -REARM' Command
Following guide will help you to fix Windows 7 error with SLMGR -REARM command;
First of all, go to the Start Menu and search CMD in search bar. It will show you cmd.exe in result. Right click on it and select "Run as administrator" from the menu.
A command prompt will opened. Type SLMGR -REARM in the command prompt without any error, Otherwise, it would not work.
After typing this command, press Enter to proceed further.
A Confirmation box will appear on the screen. It will ask you to restart your Computer.
Press OK on the confirmation box and restart your computer. After the restart, you will not get any error message like "This copy of windows is not genuine".
Note: In order to follow this method, you must have to run command prompt as administrator. Otherwise, it would not be helpful for you.
2. By Uninstalling Update
In most of the cases, people have enabled auto-update feature of their windows. But in case of Windows 7, build 7601 update causes error which is quite annoying for the users. If you think that error in your windows is caused by this update, you can follow these easy steps to get rid of it;
First of all go to the Start Menu and search for Control Panel.
Open the control panel from there. A window will be opened as shown below.
Click on Windows Update present at the bottom of control panel.
After that, click on View Installed Updates. A list of all installed updates will appear on the screen.
Look for an update KB971033 there. Once you find this update, Uninstall it by double clicking on it.
Now, restart your computer and after that the error will be removed.   
3. By Using 'rsop.msc' Command
Another effective method to fix windows 7 build 7600 error is by using rsop.msc command. The following step will help you to fix it;
Press windows button and then "R" button from your keyboard.
Type rsop.msc command in the run box and then press Enter to execute command.
Now, go to Windows settings > security system > system services. Search Plug and the Play Services and right click on it.
After that, look for Startup and then select Automatic.
Press windows button and then "R" button from your keyboard as in first step.
Type gpupdate/force there and then press enter.
At the end, restart your PC and you will see your problem solved.   
Note: This method to fix Windows 7 Build 7600 error is rather difficult than the other ones, But it is also effective and efficient method.
Conclusion
Finally, your Windows 7 Build 7600 error will be fixed. You can use any of the above mentioned methods to get your task done. If you are using cracked copy of windows than you should switch to genuine windows for safe use. We recommend you to use only genuine copy of windows.