Which are the best Samsung washing machines of this year?
Samsung is trying to keep up on this house appliances line by introducing a new (and probably better) range of washing machines.
The newest Samsung washing machines bring features such as AddWash (an extra door that can be opened during the washing process).
The newest functions on Samsung washing machines:
AddWash
Some Samsung washing machines come with an extra door. How does it help?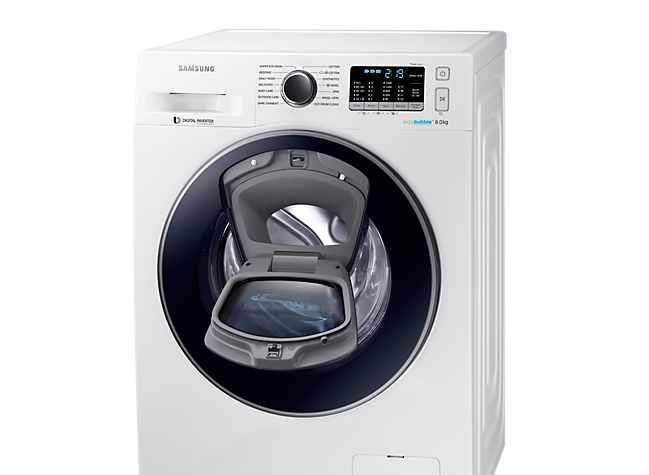 You can add extra clothes without waiting for the program to finish.
You can add extra pieces just for rinsing and drying, without taking them through the whole washing cycle.
You can add clothes balm during rinsing for a persistent effect.
Overall, AddWash brings benefits that we haven't considered until now.
Bubble Soak
This function allows the machine to soak the clothes for 30 minutes in a bath of foam. This way, difficult stains are easier to remove.
Super Speed
Some models of the 2017 line have a special washing cycle that is completed in just 59 minutes, by changing the spinning direction.
Smart Control and SmartCheck
Using the smartphone app named Smart Control, you can check the cycle of the washing machine in real time, no matter where you are.
SmartCheck allows fast diagnostics on the washing machine, saving a lot of time you would otherwise waste with technical support.
Motor Digital Inverter and VRT technology
VRT technology is a Samsung patented technology that does adaptive damping of the tub at any speed, reducing noise level.
The Digital Inverter motor is also found in last year's line, proving to be very efficient, using magnets instead of brushes. This way, it generates less noise and also vibrates less – increasing the warranty up to 10 years.
It's up to you now to choose a good washing machine keeping in mind the above specs, load capacity and energy efficiency.
Top rated Samsung Washing Machines