Washing machines differ, depending on several aspects, and loading mode is just one of them. Besides this, size counts and on the market there are normal washing machines, and compact models that take less space, but they also have less capacity. However, their advantages could make them a target for many buyers.
And when such a washing machine comes from LG, then it is likely to be as good as a full-size model. However, let's see if this is happening, and whether this compact washing machine is worth the money or not.
Appearance
The first thing that stands out in the case of LG WM1355HW is the reduced size of this model. It is smaller, having just 25.2 x 24 x 33.5 inches. In other words, it can easily find space even in homes where that is limited. On the other hand, however, the capacity of 2.7 cubic feet transforms it into a washing machine best suited for those who live alone, than for people who are part of large families.
Otherwise, however, LG WM1355HW looks exactly like a normal washing machine. It is white, the tank is made of stainless steel and the control is done via a digital display quite easy to use. In addition, it indicates the time that is left to go in the set wash cycle.
Programs and functions
LG WM1355HW is not a very complicated washing and is distinguished by the latest models on the market due to lack of possibility to clean the laundry with steam. That said, buyers have to be content with just ordinary water in removing stains DIFC.
But if steam program was not included among the features of the model, it does not mean that the car is not one of quality. However, she manages to heat water to remove most bacteria capable of temperatures of the house, so from this point of view sit very well. Besides this, the car also benefits from an additional 12 wash cycles, plus numerous other settings for water temperature and number of revolutions of the car. In other words, we're a flexible product that offers high customization possibilities in terms of the number of wash cycles.
At the base are classic programs, such as those for synthetic or delicate clothes, hand wash or intensive, but there is such a program specially made to wash white clothes.
In terms of additional functions, LG WM1355HW proposes several advantages to those interested, who can set the short program, this washing, especially clothes are not very dirty, much faster than in a normal program. In addition, those who wish to start one car, can automatically set to activate at a certain time.
Like any modern washing machine, LG WM1355HW is also quite effective in terms of resource consumption, which was expected and because of its smaller capacity. That said, washing machine consumes an average of 108 kW and 1,000 gal of water annually during the same period. Both values ​​are lower than those obtained with a normal capacity washing machine, but if we consider that one should wash more often compact to handle the same amount of clothes, then things get balanced.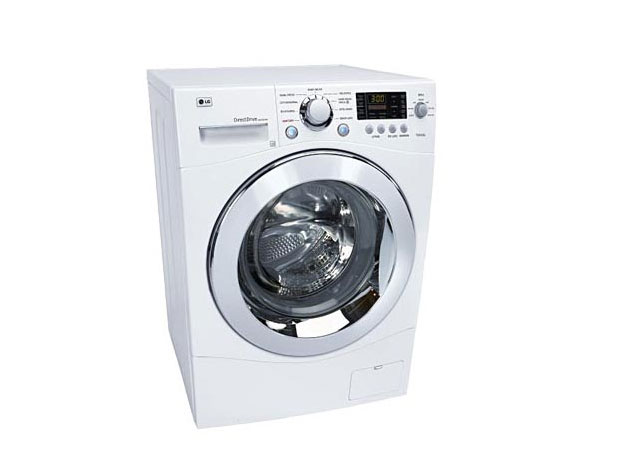 Conclusion
Because it is a compact washing machine, LG WM1355HW is suitable only for certain categories of buyers. That does not mean that it's a product of inferior quality, which is almost as equipped as high-capacity washing machines. However, a drawback is the price, which is not efficient in comparison to what this model offers.