How do you transfer your Google Map route to iGO Primo on Android smartphone? With ease and in just minutes you can copy the route created in Google Maps directly in iGO Primo.
If you want to make a  map or route on your PC on Google Maps and to import that route to iGO Primo (be it Android or WinCE), the method below is the simplest to achieve that.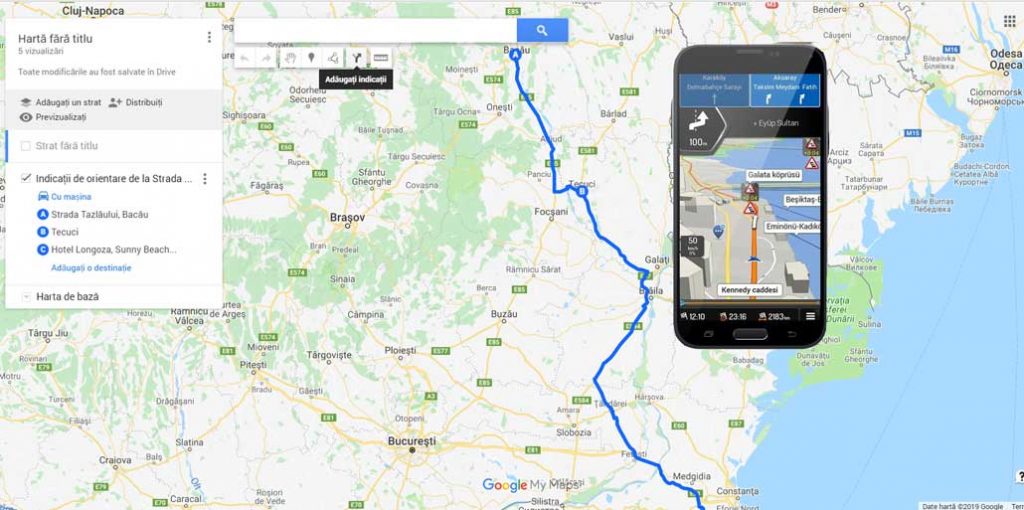 How do you create a map in Google Maps and transfer it to iGO Primo?
First, create the route in Google Maps. Open Google Maps (you need a Google account – like Gmail, etc.).
To the left, click on the three-line icon to open the settings.
Then click on your Places and then select from the open My Maps menu.
Now click the Create a Map button.
A new page will open in the browser, and on that page, click on the icon below (Add Indications):
Now on the bottom left you will have 2 boxes where you enter the route (A departure also in destination B). You can add more intermediate points depending on your route options.
Once you have finished selecting the route, click on the 3-point icon at the top. Then choose Export to KML.
Now download the KML file that will be saved in your computer.
To be able to use this file in iGO Primo, you need to copy it to the content / user-data / route folder. If this user-data / route does not exist, then create it in the mentioned folder.
Copy the KML file of the created route to that folder.
Now start iGO Primo, and in the Search menu, you have the Load route button to the right. Click on it and load the route created in Google Maps.
You get the same result in the Route / More / Load Route menu.
Success.