If you are looking for a washing machine with stunning looks and functional features, the Hotpoint WMBF944P is worth looking at. It is the perfect washing machine for any homeowner that takes particular concern with how good their appliances look.
Right off the bat, the Hotpoint WMBF994P proves to be a great fit for the above average home with a laundry load of about 9Kgs. So, let's see what else this washer has to offer.
Design
This high capacity washing machine measures about 85 cm high, 59.5 cm wide, and it is 60.5 cm deep. It features an ultra-modern exterior design which gives the conventional designs a run for their money. Even though it is a hefty machine weighing roughly 74kgs and with significant imprint on your space, you will realize that it earns its stripes and proves to be a valuable asset in your home.
The Hotpoint WMBF944P Washing Machine offers a fine blend of stunning looks, durability, and efficiency and allows you to choose from white, graphite or grey finishes depending on what you prefer.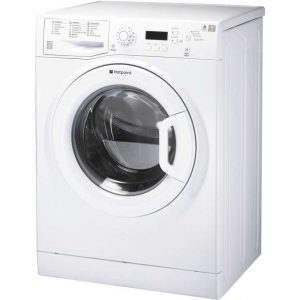 If you are concerned about the size of the machine, you will be pleased to know that it also has some space saving features like the liquid dispenser drawer. While the drawer pulls straight out on most washing machines, on the Hotpoint WMBF944P the drawer comes out at a 450 angle for ease of use and comes in handy when you are short on space.
The front control panel reveals a hoard of buttons and a centered selector knob that is calibrated making it easier for you to match your wash cycles with the imprints on the detergent try for the desired wash cycle.
There is a display screen that provides the user with vital information like when the current cycle will be completed. The screen is surrounded by buttons that are easy to push and allow you to personalize each wash depending on the load and the type of clothes you are washing.
The uniqueness of the Hotpoint WMBF99P does not stop with the features. The wide door also presents its own benefits. The wider opening makes it easier for you to load or unload which makes the task of laundry a lot easier.  My favorite feature has to be the super quiet functioning of the machine (wash-53db/spin-81db). It makes your dream of catching up with a movie while your laundry is going come true.
The addition of a delay timer gives you full control of the cycles and determining when they start and once you have keyed in all your preferences, there is a key lock that makes sure your little one does not stroll in and change the settings. The key lock also keeps your kitchen from flooding.
Program and Functions
The machine puts out an impressive 1400 rpm at peak performance. That means the drum spins 1,400 times a minute. For your laundry, that means that more water is extracted and the clothes are drier at the end of the cycle.
If your load has clothes that are highly susceptible to creasing, you can adjust the speed of the spin. It will reduce the amount of water extracted and ultimately your clothes will have fewer creases and save you time ironing.
With this laundry machine time is not the only thing that you will be saving. Its A+++ rating means you save on your bills and it is also kinder on the environment.
The machine comes with 16 washing cycles. These allow you to simply throw in the load, add the detergent and pick a cycle that works best for the load you have put in.
Special Anti Stain Program
The innovative anti-stain cycle is another great innovation which you will find to be very helpful. It removes 20 of the most stubborn and annoying stains so you don't have to worry about walking around with patches on dirt on your clothes.
To achieve the best results the anti-stain works in phases, the first phase is clicks at 40 degrees and removes enzyme-based stains. The second stage keeps the water temperature at a constant 43 degrees which is the high anti-stain cleansing phase. At constant temperature, soap is able to break the into the links of dirt and lift the stain off the fabric.
Seeing the great work the machine is capable of, the Hotpoint WMBF944P has been awarded The British Allergy Foundation Seal of Approval.
This assures you of a couple of things. For starters, you are guaranteed that the product has been thoroughly tested and its efficiency in removing allergens from the environment has been proven. The seal of approval should also comfort users with allergies or living with asthma that the washing machine is keen on not provoking their allergic reactions.
With this Hotpoint washing machine, you will not only be churning out clean clothes but you will also protect your family from allergens such as pollen and dust mites with the help of the Anti-allergy program which uses a combination of high-temperature technology with extra rinsing stages to neutralize and remove 99% of allergens.
The washing machine also has a Woolmark Platinum Care endorsement award and is certified for soft and gentle care for woolens. A delicate wash program that keeps your woolen as good as new. It uses an extra gentle drum action and low spin speeds to stop clothes from rubbing against each other and keeps them looking better for longer.
Efficiency, conclusion and price
The Hotpoint WMBF944P is an excellent model with outstanding energy efficiency and performance that saves you time and money.
Some of the reviews of this machine indicate that it has no half load feature and most programs take very long. It is also visible from the reports that the soap drawers are confusing especially for first time users.
 Its price tag is lower compared to other washing machines with similar size and features but its quality remains commendable with a wide range of features which include Digital display, Delay start timer, Delicate wash, Variable spin and temperature control. It is not a typical high end washing machine but is quite close to that bracket.
Consumption and Noise details
 Annual energy consumption : 196 Kw
Annual Water Consumption 12254 litres
Noise Level Spinning 81 dB
There's no question that this is a great option when you are looking for a reliable high capacity washing machine. Independent online reviews for this machine are above 4.0 making it an excellent option. It's suitable for families who require a more substantial drum capacity and Hotpoint WMBF944P could help you enjoy just that.