A lot of people are searching on Google about "How to make Single Name Account Name on Facebook" or "How to Hide your Last Name on Facebook". Well Techin.Review brings you a pretty simple method to make single name account on Facebook easily. Mostly people have two or three or more names and they don't need this feature but they are actually interested out of curiosity to name themselves with single name on Facebook. But the problem arises for the people who have actually a single name on their National Identification Card. Well if you have single name on your National Card and you are not Indonesian then you need to follow this comprehensive guide on Having Single Name on Facebook. Please note here that, as Indonesians mostly have single names in their real life, so Facebook has officially allowed them to create Single Name Accounts.
As mentioned earlier that only Indonesian Nationals are officially allowed single names on Facebook so what we are going to do is. We will pretend to Facebook that we are from Indonesia. As the privacy and safety of all our readers are important to us, so its your own responsibility if you want to proceed to the steps below to hide your last name on Facebook and show only single name on your Facebook profile. If you are still interested in getting your Facebook profile on how to change your name to one name at any cost, Let' go..!!!
Steps for Making Single Name Account on Facebook
Step 1
Open your Internet Browser be it Google Chrome, Mozilla or Internet Explorer and type in https://www.facebook.com/ in the address bar. Log in to your Facebook account and go to "General Account Settings".
Step 2
From the Account Settings, click on "Language Settings" and change it to "Bahasa Indonesia".
Step 3
Go to https://www.hidemyass.com/proxy-list/
Select Proxy Country to Indonesia and port to 8080 
Click "Update Results" and copy the proxy address of port from the results shown on the websites. Most probably the proxy address will be like something in this format.
– 67.242.28.46
Keep trying and find the working proxy address from the website for single name Facebook account process.
Step 4
If you are using Mozilla Firefox, then you will have to change the Firefox browser proxy as shown below.
Go to Tools—>Options—>Advanced—>Network—>Settings.
 Now click on the Settings button and select "Manual Proxy Configuration".
After that you paste the proxy address and port 8080 which you got from the above "Hidemyass" proxy website and tick the box which says "Use this proxy server for all protocols" and click OK to save the settings in the dialog box.
Step 5
Now open your "Name Settings" in your Facebook Account Settings. Remove your last name or leave it as empty and click on "Save Changes".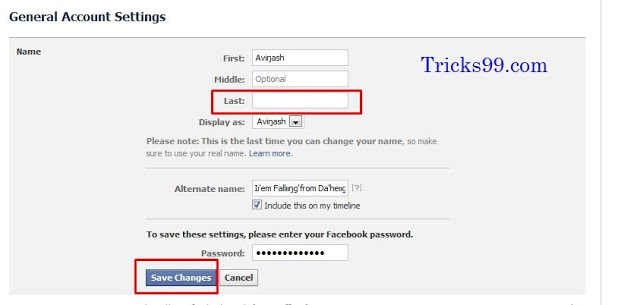 Congrats, you are successful in changing your Facebook name to Single Name. You can go and check your profile to see if it actually worked.
 Step 6
After you are done with your Single Name status on Facebook, again go to "Language Settings" in your account and change the language to English.
Step 7
Remove the "Manual Proxy Configuration" in Firefox Settings and select "Use System Proxy Settings and you are done.
Note: You can only have Single Facebook Name account only if your profile name limit is not exceeded.
Please note here that the main aim is to find working proxy address for Indonesia. If you are able to successfully log in to Indonesian proxy, you can easily change your name to Single name otherwise it is nearly difficult to impossible. If you have any doubts or help while making the Single Account Name on Facebook or hiding your Last name on Facebook, you can ask in the comments section below. We hope that this method of changing your name to Single Name works for you 🙂
Cheers.!!!