Whether you want it for gaming, controlling your TV, or just plain typing, a small keyboard can be a useful tool, especially if you're running low on space, or frequently work on the go.
However, shopping for electronics isn't always easy. You can buy a $40 keyboard that stops working the very next day!
To avoid such a depressing experience, I went along and collected the 7 best smallest keyboards currently on the market.
Best Smallest Keyboards: Our Top Picks
What are the best features of each keyboard? What are their compatible devices? What shortcomings do each possess? These are some of the questions we're about to answer for each product, below.
Rii i8+ LED Backlit Mini Wireless Keyboard – Best Overall

If you want a small keyboard that can be used for typing, gaming, and controlling TVs, the Rii i8+ LED Mini Wireless Keyboard could be your best bet.
First of all, you can enjoy using it to play your favorite games. It's literally designed like a console controller with two rounded extensions on the sides to rest inside your palms. It's also padded on the back to promote a soft and ergonomic gaming experience.

Just like most of the other small keyboards, this one is equipped with a touchpad that responds to multi-touch. I don't like how it's placed on the top part, though. It's not as natural as having it on the side like the regular mouses or even at the bottom like laptops.
With buttons for volume control on the top left corner, this keyboard is able to replace the remote control of a smart TV. It can also work with any device that accepts a wireless USB dongle like a PS4, PC, Android TV Box, Home Theater, etc.
Using this keyboard in the night won't be a problem since all of its keys are backlit.
All these features come at an absolutely affordable price, giving you the best bang for your buck.
PROS
Functions as a keyboard, remote controller, and gaming controller
Backlit keyboard
Affordable
CONS
The touch pad place doesn't feel natural
---
Rii X1-Black Mini Wireless Keyboard – Most Portable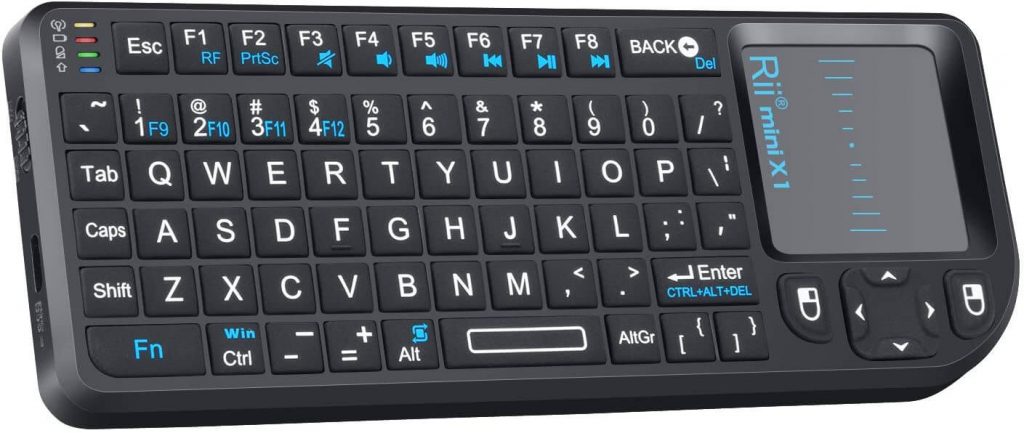 If you want a keyboard that you can easily carry anywhere, consider this one from Rii. With measurements of 6" by 2", it can fit inside your bag or even your pocket.
Maybe it's not the smallest, but I chose it as the best portable because it also features a fully-functional mouse pad on the side. It supports single and double click, but you'll also find two buttons doing the same thing in case you want the classic experience.
It works via a wireless connection. However, it's not programmed to work with smartphones, whether Android or iOS.
You'll be able to use it with a PC, Notebook, Smart TV, Home Theater, TV box, PS4, and Xbox. All you have to do is plug in the USB dongle to your chosen device and it'll instantly work without any drivers. You can use it seamlessly within a range of 30'.
Best of all, Rii goes the extra mile with customer service. You have 45 days in which you can return the keyboard for an unconditional refund. If it works well and you decide to keep it, it'll be covered with a 12-month warranty.
PROS
Small design that fits in a pocket
Equipped with a mouse pad and buttons
Works via a wireless USB dongle
Affordable
CONS
Isn't compatible with smartphones
---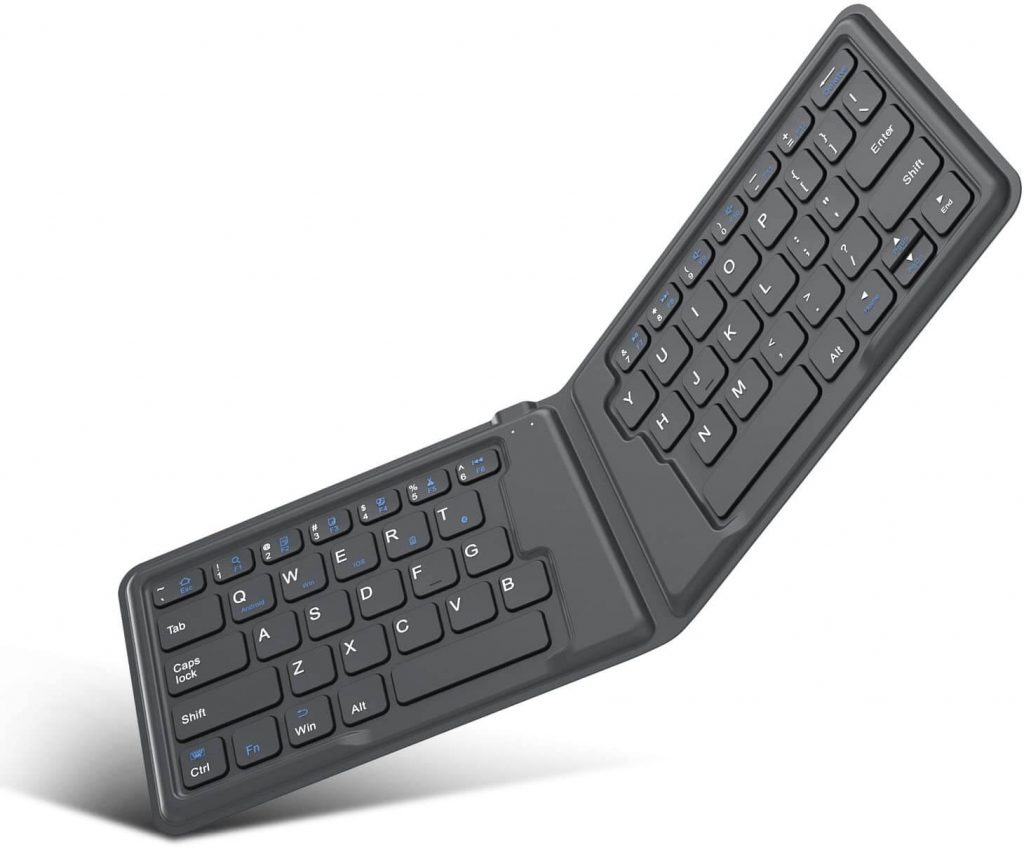 Fold away devices are a huge trend! I think they'll control the market pretty soon. If you want to be among the pioneers, consider this foldable keyboard from MoKo.
It's designed as two parts that fold together in the middle. Each part measures around 6" by 4". Therefore the whole keyboard reaches a total width of 12" while being used.
The keyboard looks pretty much like a laptop's but it misses the numeric keypad. However, you can still type numbers with the buttons placed at the top row.
Since it works via Bluetooth 3.0, it's compatible with Windows, Android, and iOS. However, it can't be used with Windows Phone.
I absolutely like the unique design that this keyboard has. When it unfolds, it takes a U-shape with an angle of 160°. This allows for the most natural typing possible. If your wrists hurt after a long day on the keyboard, such a design can make you feel much better.
The built-in battery fully charges in less than 2 hours. It can support about 60 hours of continuous work and up to 30 days of standby time.
To make the battery stay even longer, this keyboard automatically shuts off after folding. This is possible through a built-in magnetic switch.
PROS
Ergonomic U-shaped design
Compatible with Windows, Android, and iOS
Large battery capacity
CONS
Can't be used with Windows Phone
---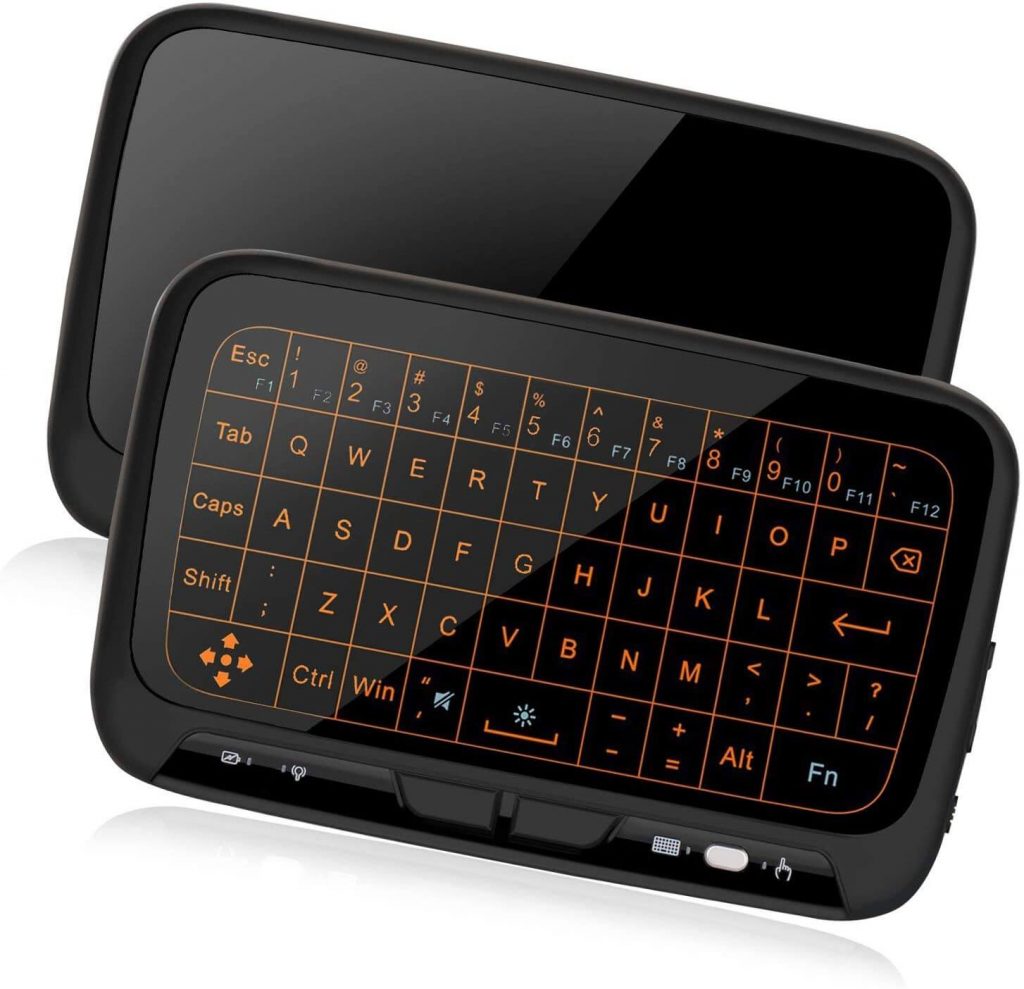 The first time I saw this keyboard, I was instantly hooked. If you want something that looks cool enough for you to brag about, this is definitely what you're looking for.
Instead of physical buttons, this keyboard features a touch screen that shows the same buttons of any regular keyboard. The brightness of the buttons can be adjusted in 3 levels to match your surrounding light.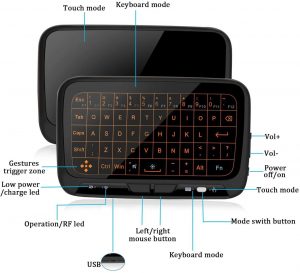 Here's the best thing about it. When you're done with typing, you can shift to the touchpad mode with a simple click on the lower right button. This will transform the whole screen into a fully functional touchpad that supports multi-touch.
The keyboard runs via a wireless USB dongle, so it can be used with a PC, Laptop, Android TV box, Home Theater, etc.
If your smartphone supports USB On-The-Go (OTG), you can use this keyboard after attaching the dongle to a micro-USB adapter.
The only thing I wish was different is the material. They could've incorporated a metallic back to improve esthetics and durability.
Don't get me wrong, though. It doesn't feel cheap. Then again, this quality is the best one you can find in the same price range.
PROS
Looks epic
Functions as a keyboard and touchpad
Adjustable screen brightness
Affordable
CONS
Doesn't support smartphones by default
Materials could've been better
---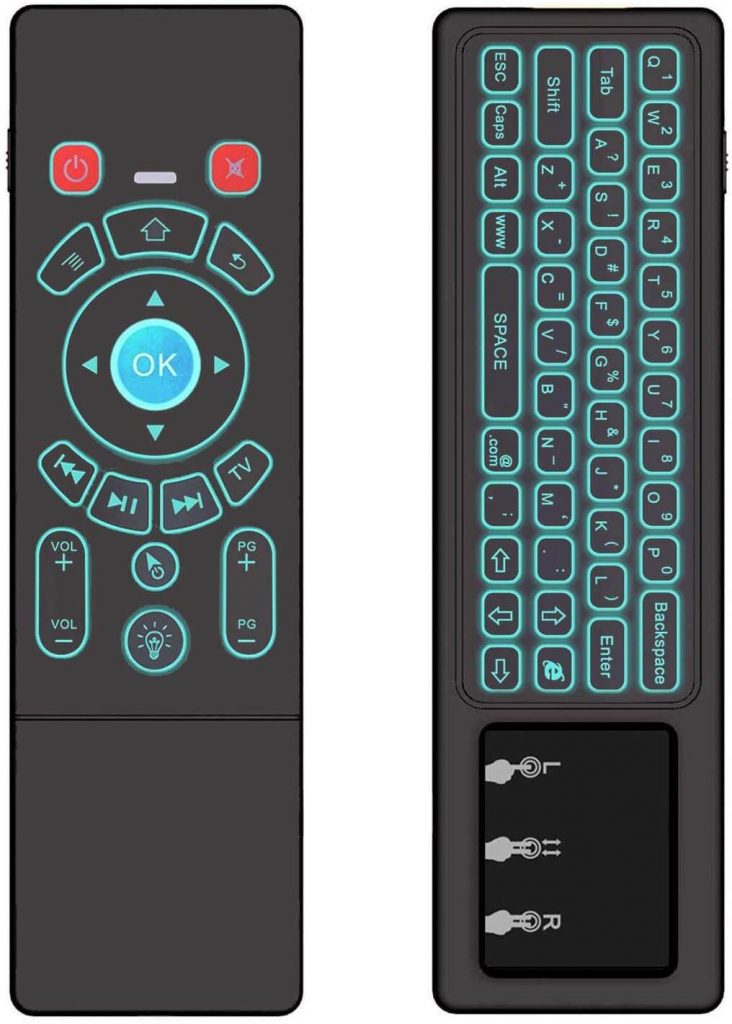 Some of the small keyboards featured in this roundup can also be used to control smart TVs. Therefore, if this is your main use, then the ILEBYGO RGB Rechargeable mini wireless keyboard would be an ideal choice.
Conventional models are only made to control the volume and switch the channel. And due to their usually-busy interface, you'd have to look each time to find the needed button. With this keyboard, things are completely different.
On the front face, you'll find a normal keyboard with a touchpad on the side. On the bottom face, there's a dedicated air mouse remote control with a notably convenient interface.
Thanks to its backlit feature, it'll be super easy to use it as you're watching a movie in the dark. And as the name implies, it's possible to choose a backlit color from red, green, and blue.
While the presence of a separate remote controller on the back is a huge advantage, some people may consider it a downside.
With such a design, you'll always have to hold the keyboard in your hand while typing. Otherwise, all your typing forces would be pressing the back buttons, which can shorten their lifespan.
PROS
Equipped with a separate air mouse remote controller on the back
Backlit buttons with 3 colors
Affordable
CONS
Must hold it in your hand while typing
---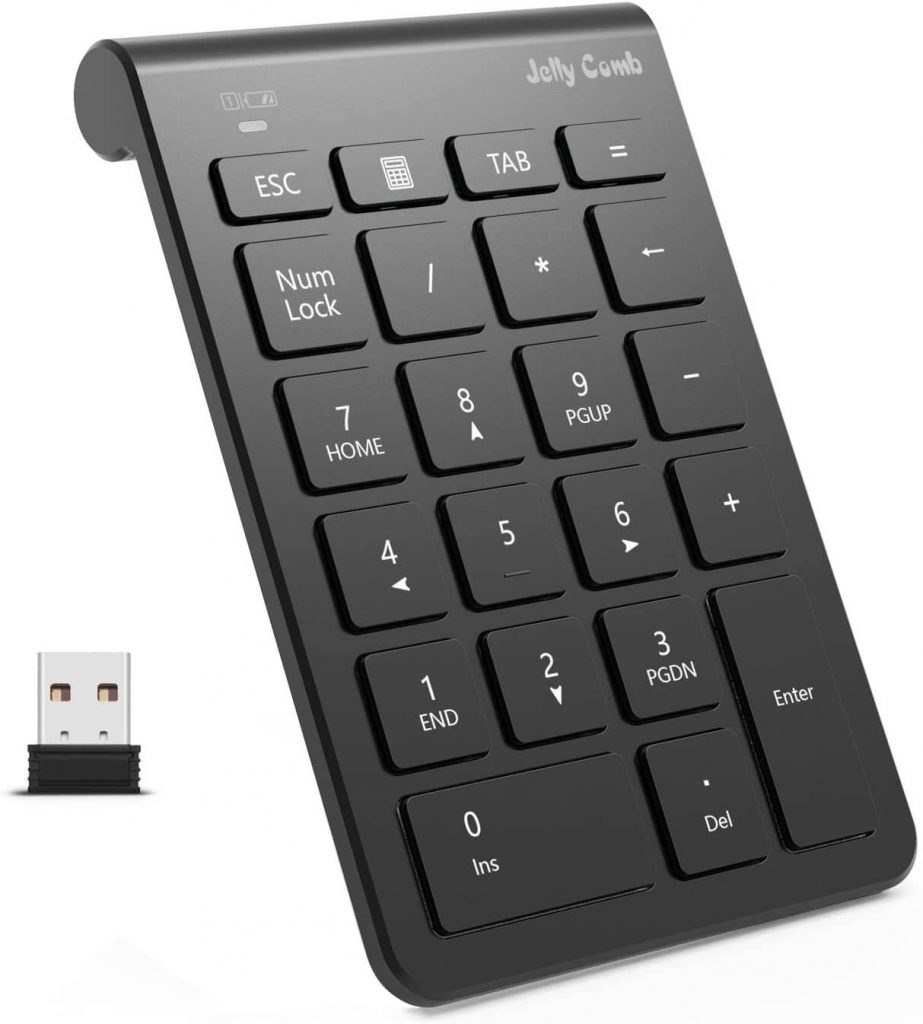 Working in data entry and accounting can be extremely difficult if your laptop doesn't have a dedicated numeric keypad. It's much faster than using the numbers on the top row. If you feel the same way, then you should consider this mini-pad from Jelly Comb.
Unlike regular keypads, this one features additional buttons needed for data entry. These include the "equal" sign, Esc, Tab, and a shortcut button to open the computer's calculator.
Since it weighs only 1 oz, this pad is equipped with non-slip mats on the back. This way, your hand can rest on it without being easily displaced.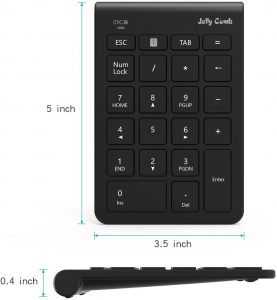 This pad connects wirelessly to any Windows device via a USB dongle. It's not fully compatible with Mac OS since Apple doesn't allow external keyboards with function keys.
This pad runs on a AAA battery installed on the back, which is my least favorite feature. Nearly all other mini-keyboards run with a built-in USB-rechargeable battery now.
While most of the regular keyboards lie flat on desks, this pad is designed with a 15° inclination. This fits comfortably to your fingers and eases writing for longer periods.
PROS
Features additional keys important for data entry
Compact, inclined design
Non-slip mats on the back
Includes hidden mini receiver
Scissor switch buttons for longer life
CONS
Runs on a AAA battery
Doesn't run on Mac OS
---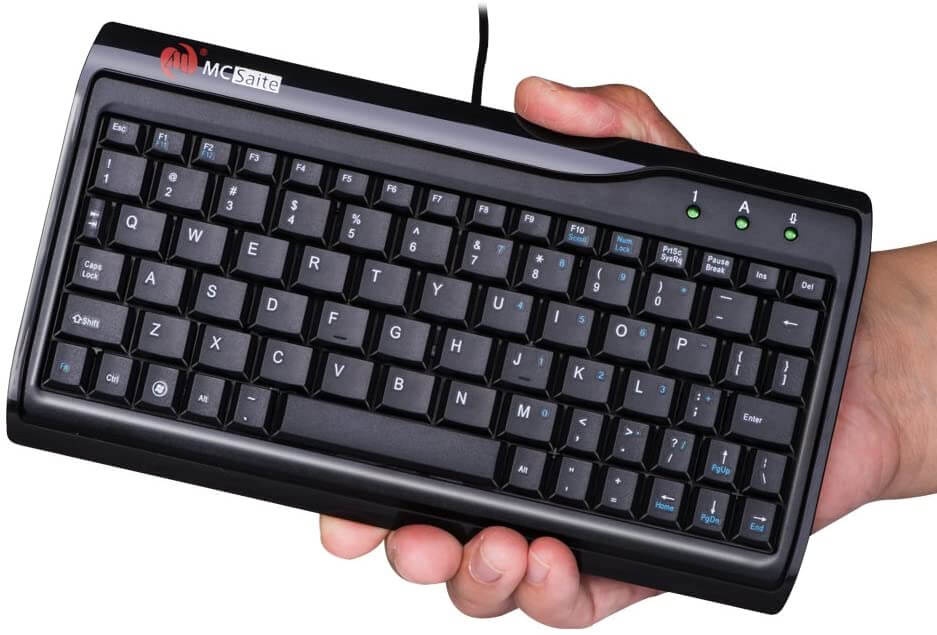 I couldn't finish my list without suggesting a wired option. It's not my personal favorite due to its minimal portability, but some people may prefer the consistency of the USB wire over the dongle.
This 78-button keyboard measures 8.5", 4.5" and 0.75"  for length, width and height respectively. This compact size comes at the expense of shrunk secondary keys, like Caps Lock, Ctrl, Alt, etc. However, MC Saite kept the main keys in full size for seamless typing.
Just like any regular keyboard, this one supports plug and play with Windows, Mac OS, and Chrome OS.
Each key delivers the unique sense and sound of a regular mechanical keyboard. Thanks to their high-grade PVC material, keys are guaranteed to stay as "crunchy" as new.
On the back surface, this keyboard is equipped with anti-slip mats. This allows you to use the keyboard on almost any surface with maximum comfort.
On the downside, some customers complained about the shipment of already-broken keyboards. However, MC Saite is typically cooperative with such an issue. Just let them know if this happened and they'll hopefully send a new one as soon as possible.
PROS
Mechanical 60% keyboard
Compact design
High-quality durable PVC construction
Anti-slip mats on the back
CONS
Some keyboards were non-functional upon delivery
---
What to Consider Before Buying a Mini Keyboard
If you still can't make up your mind, here are some tips that can help you choose the best smallest keyboard.
Is it Ergonomically Designed?
If you can't comfortably hold the keyboard within your palms, it'll give you a hard time in terms of wrist pain. There's no one design that can be called ergonomic, though. This depends on your intended use.
If you'll use it for gaming, it should have the shape of a console controller. On the other hand, it should be equipped with a slight inclination, preferably 15°, if you'll use it for typing on a desk.
As a side note, experiencing pain while typing can be an alarming condition that might lead to more serious injuries, such as carpal tunnel syndrome. Reviewing your posture and hand position can be an easy way to protect yourself.
Is it Multi-Functional?
I'm in love with all-in-one tools. They save space, money, and they're much more convenient to use.
The best smallest keyboard should be able to type, control a cursor with a touchpad, control a smart TV, etc. The more features, the better.
This, however, might come at the expense of battery life. If you travel a lot with the keyboard, you might not always have a recharging source. In this case, it's better to opt for a minimalist keyboard with the least power consumption.
Consider Compatibility
Some keyboards run via a Bluetooth connection. In this case, it'll be compatible with smartphones, PCs, and laptops.
Your other option would be a wireless connection via a USB dongle. This design typically runs on consoles, PCs, Android TV boxes, Home Theaters, and any device with USB compatibility.
You can still use it with OTG-compatible smartphones but only after attaching a micro-USB adaptor.
Final Verdict for choosing the smallest keyboard
As of today's technology, my best smallest keyboard is the Rii i8+ Wireless Keyboard. I like how they designed it like a console controller to improve gaming experience.
If you want a keyboard that can be folded, then you'll like the MoKo Bluetooth Keyboard. It assumes a U-shape when unfolded to allow for a seamless, comfortable typing.
In case you don't want to depend on a battery, you can always opt for a wired keyboard like the MC Saite Super Mini Wired Keyboard. It has a superior performance like a regular mechanical keyboard.
I hope this article answered your question, see you in another tech post!