Carrying kids while shopping, walking or working can be a really difficult task.
Therefore, we'd suggest parents consider buying a stroller for infants. However, when they grow up you might not be able to use the same stroller due to weight.
Even though bigger kids can walk on their own, they get tired easily. So, you'll need a stroller designed for big kids which can hold their weight.
Choosing a good stroller for big kids is difficult for parents as there are plenty of brands providing a variety of different strollers. Most of them come with similar features but we've found a select few which stand out from the crowd.
We researched and found some products that fit these needs –  best double jogging stroller for big kids,  best lightweight stroller for big kids or a general easy to carry stroller for big kids.
What to Consider Before Buying a Stroller for Big Kids
Before buying a stroller for big kids, you need to consider a few things. This can help you in choosing the right one for you from the list we've provided.
Requirements
The most important thing to consider is your requirement for the stroller. If you have twins, you must go for double stroller. If you have to go for jogging regularly then light weight jogging stroller can be a good fit. Similarly, if you usually need stroller while shopping then you should consider wagon stroller. We have listed strollers of all these categories below.
Safety
When talking about babies and kids, safety has the utmost priority. You have to monitor all the safety features (i.e. Canopy) offer by that particular product. For example; look for a stroller which provides enough weight capacity. As, using small stroller for big kids might hurt them.
Price
Price is another factor that can affect your choice. Most people go for low quality products if they are offered at less price. However, this costs them more as such products do not last longer and have negligible safety features. So, I recommend you to prefer quality over price if you do not have a budget issue.
Best Strollers for Big Kids: Our Top Picks
Check out this list of best strollers for kids and read their reviews to have an idea about their features. Each stroller is mentioned with its pros and cons.
1.  BOB Flex 3.0 –  a Good Jogging Stroller for big kids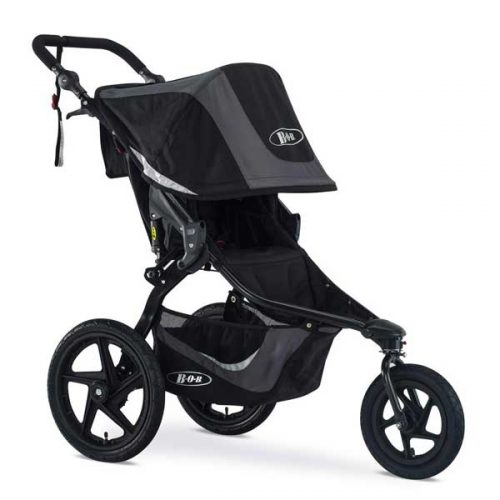 BOB Flex 3.0 Jogging Stroller stands on the top of this list due to its premium quality and durability. It has become one of the top-rated products by having around 90% five-star ratings on amazon. Weighing approximately 28 lbs, it offers the maximum weight capacity of 75 lbs. This is most compatible for children having a maximum height of 44 inches. This weight and height capacity are enough to hold big toddlers. The overall dimensions of this stroller are 45 x 24.5 x 43 (L x W x H).
Flex 3.0 is known for its stable and robust aluminium frame which can help you with jogging or morning walk. With great Mountain bike-style suspension system and air-filled tires, this stroller promises a save and smooth journey of your kids. Moreover, it provides space for adjusting the front wheel in two different positions according to your needs—one for more stability and the other for more agility. Bob Flex gives the best performance on bumpy sidewalks and even on the beaches.
While having this jogging stroller for big kids, carrying weight or groceries will no longer be a problem for you. It provides one phone pocket, 2 pockets inside the stroller, 3 pockets outside stroller and one large cargo basket in the bottom.
One of the most notable features of Flex 3.0 is its adjustable handle. With 9 different available positions, it allows you to adjust the handle according to your height. This feature can be beneficial for parents who have a significant height difference.
Other than this, the seat is quite comfortable and can be reclined near to flat. There is a large canopy on the seat to protect kids from sunshine and UV rays. The latest model of Bob Flex comes with new seat technology which ensures the proper airflow within the stroller and avoids the child to sweat.
PROS
Bike style suspension system
Air filled tires
Large Canopy
Proper ventilation
Adjustable Handle
CONS
A little expensive
Can be heavy for some parents
---
2.  Britax B-Lively Double Stroller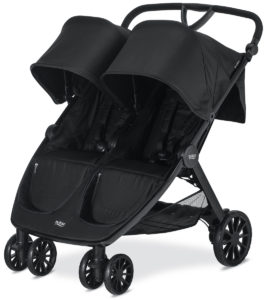 Britax B-Lively is one of the best double strollers for 5-year-old kids. The side by side seats can hold up to 50 pound each and provide infinite recline positions for baby. This model is a lightweight stroller for big kids (around 29 pounds). It can be easily carried in the car with its Infant car seat compatibility and quick fold feature.
The big canopy not only provides protection from direct sunlight but also it takes care of proper ventilation and allows you to monitor your baby from the top. Just like other strollers, this one also provides plenty of space in the form of 6 pockets and one large basket. This can be useful to place baby kits or groceries.
As a double stroller, it is wider than simple strollers. With a width of 31 inches, this stroller may face difficulties while passing through narrow doorways. However, most of the customers do not meet this problem.
Britax B-Lively Double Stroller comes with a durable aluminium frame, all-wheel suspension feature and parking brakes. This ensures the safe and smooth journey of kids. The handle is also adjustable, so you can easily adjust it according to your height. Customer reviews show that it is straightforward to move. Some customer state that you can turn the stroller even with one hand without any effort.
PROS
2 side by side seats
Infinite recline
More than enough pockets for accessories
Suspension wheels and Parking brakes
Adjustable handle and easy maneuver
CONS
May be difficult to pass from narrow alleys
---
3.  Thule Urban Glide 2 Jogging Stroller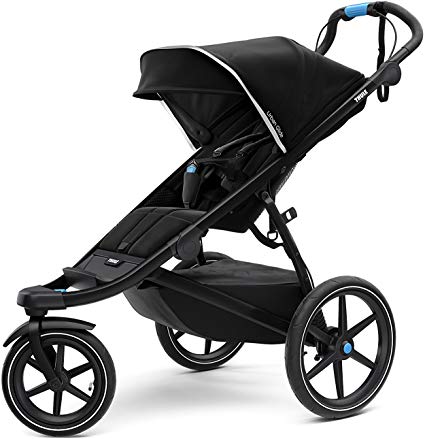 Thule, a Swedish company, known for its luggage racks, has jumped into the market of kids and babies accessories. With its high quality and durable products, it has earned the trust of customers. Thule has introduced various models of strollers, but Urban Glider 2 is best among them. It is 13 inches wide and has a maximum weight limit of 75 pounds. Ideally, it must be used for kids with a maximum age of 3 years. But its strong structure allows even 4-year-old kids too.
It is mainly designed for a parent who loves jogging regularly. This jogging stroller for big kids has 3 large inflatable wheels with great suspension for a comfortable and pleasant ride. Urban Glide 2 has special features to absorb shocks on a rough path while jogging. It is also one of the most comfortable strollers to manoeuvre.
When it comes to kids products, safety is always an important aspect to consider. Unlike other models, this model has twist brake near the handle to give parents complete authority to slow down and stop the stroller. This can really reduce the risk of crashing. In addition to this, the brake at bottom acts as a parking brake. You just need to press the paddle to apply the brake. However, some parents complain about the stiffness and difficult operation of paddle brake.
The padded seat can be reclined, but it does not allow flat recline. So, it cannot be used for the newly born baby. Anyways, we are talking about the best stroller for big kids so this is not a problem. Other features include; a large basket with cover to place necessary kid gears, a sunshade and car seat compatibility.
PROS
Twist Brake and Parking Brake
Padded Seat
Car seat compatible
Large Basket
Sunshade to avoid UV rays
CONS
Paddle of parking brake is stiff
Does not allow flat recline
---
4.  Joovy Zoom 360 Jogging Stroller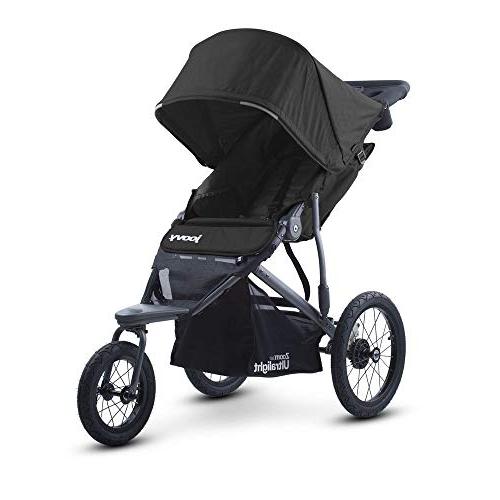 Joovy Zoom is another excellent Jogging Stroller with a small budget-friendly price and 75 lbs weighing capacity. It is among the lightest stroller with a weight of 25 lbs. This makes it easy to carry and manoeuvre. The seat is wide and high enough to hold a 6-year-old kid, providing him with enough space to move and adjust himself. The maximum height limit for the kid is 44 inches.
The pockets inside the seats can hold toys or snacks for the kids to keep them busy. There are separate pockets for parents to keep their cell phone or other items. Moreover, the two cup holders can be used to hold a bottle or feeder for the baby.
Joovy Zoom has large air-filled tires; the front tire is 12 inches, and the back tires are 16 inches. The aluminium frame with high-quality suspensions prevents shocks on a rough surface. The front tire can be locked for better stability of the stroller.
Overall, it is a good light stroller for big kids yet cheaper than most of the other strollers in the market. The Only downside is that there is no option available to adjust the handle according to your height. The product has dimensions of 54 x 25 x 46 inches. So, you must consider that it is compatible with your size. Otherwise, this stroller may result in a bad and uncomfortable experience for you.
PROS
Light weight stroller
Relatively cheaper
High quality suspension system
Air pumped tires
CONS
Handle bar can not be adjusted
---
5.  UPPAbaby G-LUXE 2018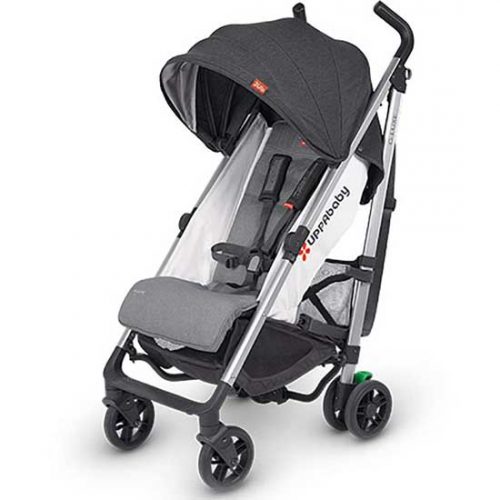 Among all the wagon strollers, UPPAbaby G-LUXE 2018 is one of the most durable and best strollers of all time. It because of its unique materials that it is made of and can have the capacity to hold 3 and 4-year-old children. I like this brand because it really keeps up with the changes in the family's daily life and offers adaptable and handy carts or buggies that make parents life more comfortable.
This wagon stroller has an extendable UPF 50+ sunshade for great sun and wind protection all the time. Other features include a cup holder for kids, stands when folded and easy to remove washable fabrics.
All your travel needs can be covered by just this one stroller for toddlers. It has dimensions of 13 x 12 x 45 inches. It is only 15 lbs, so it is a lightweight stroller but still a robust one.
You can easily pick it up and carry over your shoulder too, or you can also fold it to a standing position and tuck into a corner.
It is made of an aluminium frame, it has 5.75″ diameter wheels with shock absorbers and all-wheel suspension. Also, it features performant brakes, PVC handles for comfort and easier pushing. Suitable carry strap, 5-point harness, updated large, easy-access basket with 10 lbs weight limit and a removable cup-holder included. So far, this can be the best stroller for toddlers you can get for your child's comfort.
While this product has excellent reviews, but still, some parents might find it challenging to fold. Moreover, canopy lacks the pee-a-boo window to monitor kids. Also, storage pocket on the back has no closure.
PROS
One-handed actuated recline
Large canopy
Adjustable footrest
Light weight
Cup Holder
---
6. Veer Cruiser Hybrid Wagon Stroller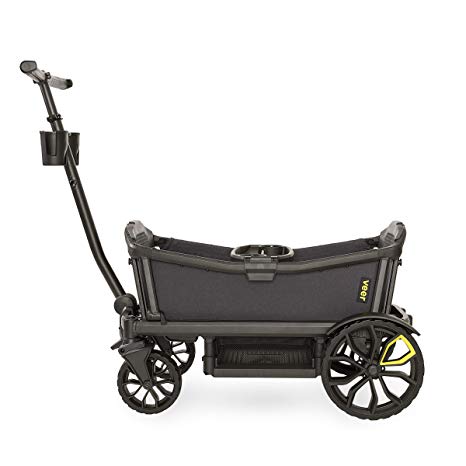 This wagon for strollers is a precious investment for your child. It can be used for toddlers, babies and even older kids or infants. Most of the double strollers are big, expensive, and hard to manoeuvre. Still, this wagon stroller has a weight of 32.5 pounds and has product dimensions as 37 x 25 x 23 inches.
It includes 2 Cup Holders which are very valuable and 1 Snack and Drink Tray. It meets ASTM safety standards and is JPMA Stroller Certified so no need to worry about its maintenance. It has a push, pull or pull alongside along with a lockable handle for easy pushing. It accommodates an infant car seat whose adapter is sold separately and is very useful for carrying the child on long pathways and rides.
So, this wagon stroller is clearly a stroller for toddlers and your best choice and decision. Its rear wheels are equipped with fenders so muddy, and dirt trails won't be a problem with this wagon stroller. This stroller wagon hybrid can take your kids for a voyage whenever and wherever you want.
Veer Cruiser has a large storage hamper where you can carry everything you may need for a journey or trip. According to some parents, this is heavy, bulky and expensive, but it clearly does the job wonderfully. It is easy to fold, built with high-quality materials and great fun for kids.
PROS
Large storage basket
Easy maneuver
Durable and High Quality
---
7.  GB Pockit Plus Stroller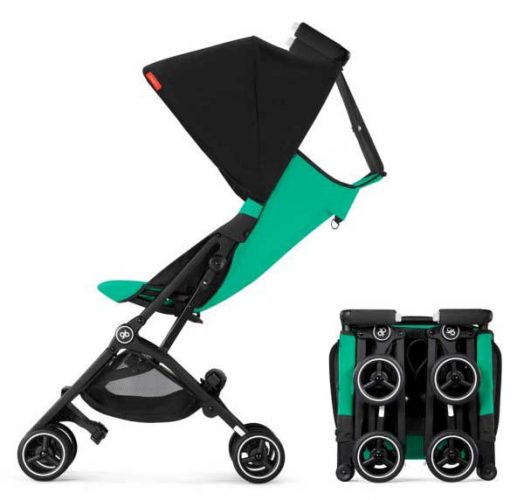 It is one of the cheapest and effective wagon strollers, having a weight of just 10.8 pounds with product dimensions as 15 x 12.6 x 7.9 inches.
This wagon stroller is perfectly made for toddlers. It is lightweight and portable so you can carry it anywhere you want. The Pockit Plus folds and unfolds very effectively, but requires two hands to do the job. It has the densest and compact fold of all the strollers we recommend.
Having such a compact stroller is magick in most situations. When your 4 or 5-year-old child has rested in it and ready to walk again, you can toss your folded GB Pockit Plus into your shoulder bag.
Another useful and a good feature that the manufacturer has added to the new GB Pockit Plus is the sprawling and reclining backrest. Toddler and infant get tired too quickly, and sometimes they like to lie back and rest for a little while, or even take a nap. Therefore, it is convenient on longer walks to have a reclining seat.
Most parents say that Reclining mechanism is not very reliable. When the seat is reclined, canopy gives less cover. Some mothers complain about wobbling too but overall, this stroller is pretty good as compared to other cheap non-effective wagon strollers.
PROS
Relatively cheaper
Light Weight
Can be turned into a shoulder bag
Reclining backrest
CONS
Canopy do not provide proper shade on reclined seat
---
8.  Baby Jogger City Mini GT Double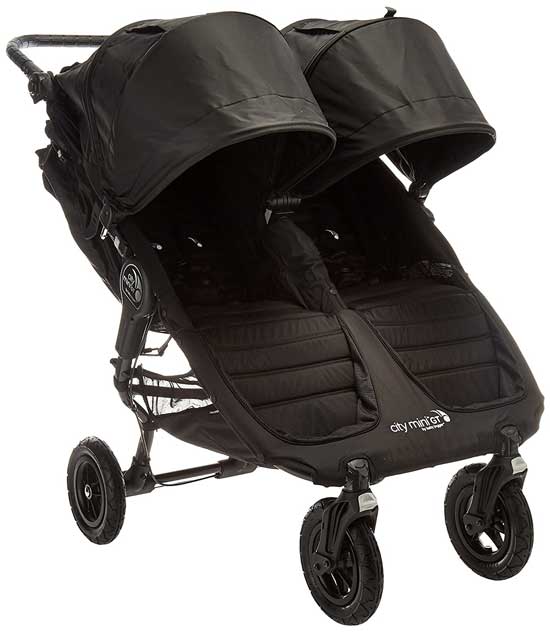 Suppose you like the regular Baby Jogger City Mini Double. In that case, chances are that you will love the City Mini GT Double, which has recently been upgraded. Everything about this wagon stroller is the same as the regular City Mini Double except some changes. Updates include a shinier design with advanced textiles and fabrics, adjustable footrests for your kids, forever air, all-suspension tires and the addition of both a handbrake and a foot brake.
It comes in 4 colours at the moment, red, grey, blue and black, which is the all-time standard colour. Has an item weight of 32.6 pounds with product dimensions of 48.6 x 43.5 x 30.1 inches. It has a seating capacity of 2 kids.
This wagon stroller has a patented quick fold technology which allows you to fold your double stroller with one hand. An 8.5 inches all-terrain front side view, while having non-smooth tires vital deferral which provides a smooth, comfortable ride. It has a stroller Height of 30 to 43.5 inches; Stroller Weight 32.5 pounds Folded Height 31 inches Folded Width 29.75 inches and Folded Length of 12.5 inches.
The twin stroller features great amplified seat sprawls to a near flat position with expelled seat top. Large adjustable sun shelter with peek a boo window opening. The City Mini GT Double becomes a portable system in instants.
Some parents say that it has a Small basket divided with a bar in the middle, and Velcro closure for windows is quite noisy. On the other hand, most of the parents give positive reviews as it has durability, excellent balance and also for working great on many types of terrain. Which makes it one of the best wagon stroller for big kids.
PROS
All suspension wheels
Adjustable foot rest
Hand brake and foot brake
Patented quick fold technology
---
Conclusion
Now you have gone through the list, you are familiar with the feature and cons of each stroller for big kids. It is quite easy for you to choose a robust stroller for big kids. Feel free to ask questions in comment section if you are confused. Also let us know which stroller you liked the most and why.