Looking for a set of best woodturning tools for your woodwork tasks?
Well, today here we will list some of the best woodturning and lathe chisel sets which you can buy right now to design beautiful pieces of art from the wood.
Woodturning is actually a skill to craft wood into the desired form and with the help of wood lathe.
You can create a beautiful bowl, a vase, spindle and a lot of various products by using woodturning tools to shape the wood as it spins around the axis of rotation in the lathe machine.
The person who performs the task is known as a woodturner, and they are rare. Because the mechanical lathe machine has replaced them.
Woodturning is not an easy task, and it takes a lot of time and effort to create unique and decorative products. So if you are interested in woodturning as a passion or for gaining a skill, you need to have some essential woodturning tools which would assist you in your job.
There are a lot of such woodturning tools available online on marketplaces like amazon which you buy right now. So if you are a beginner at woodturning or a professional, we are going to list tools for all of you. Stay tuned and keep reading. Let's dive deep into some of the best woodturning tools and lathe chisel sets which suits your needs.
Best Woodturning Tools: Our Top Picks
If you are a craftsman or want to become a good craftsman, its best to invest in high quality and highly functional tools set. The most versatile one is Hurricane Turning Tools Set, which contains 16 pcs and consists of every type of lathe chisel you might need ever.
There are a lot of other choices too. So let's see and check all woodturning tools reviews and decide which one would be a perfect fit for you.
1. Hurricane WoodTurning Tools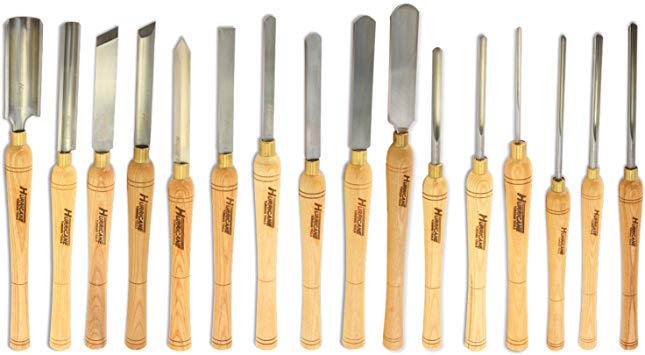 This is a complete set of High quality and high-speed steel woodturning tools and comprises of 16 different pieces. These turning tools are long-lasting between each sharpening and can last up to 8X more than an ordinary carbon steel tool. Another notable feature of the Hurricane Turning tools is that they have extra long handles as long as 16 inches which makes them extremely easy to use. The handles are made of solid ash.
The best part is that it contains every chisel needed, so you need not buy a 50 dollars single chisel only. This hurricane turning tool consists of the following.
1/2 inches spindle gouge

3/8 inches Spindle gouge

1/4 inches spindle gouge

An inch of nose scraper

3/4 inches of square nose scraper

1/2 inches of round nose scraper

3/4 inches of round nose scraper

1-1/2 inches Nose scraper

1 inch of skew lathe chisel

1-inch spindle roughing gouge

2 inches spindle roughing gouge

1/2 inches bowl gouge

3/8 inches bowl gouge

5/8 inches bowl gouge

An oval skew chisel of 3/4 inches

A diamond parting tool of 3/4 inches
These are great all in one tool needed to craft any bowl, vase or decorative item. If you are unable to spend on all 16 pcs set, you can also order a standard 8 tools turning set which can help you get started and then you can upgrade to this highly admired Lathe chisel set.
These sturdy and inexpensive turning tools set is indeed a must-have if you are a craftsman or wanting to become one. It is best for both beginners to advanced level of craftsmanship.
---
2.

PSI Woodworking Lathe Chisel Set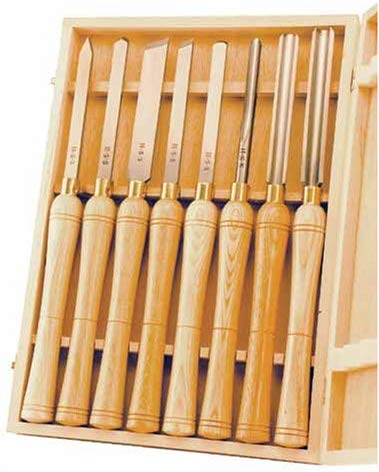 Another amazon choice Woodturning tool is PSI woodworking Lathe Chisel set which consists of 8 essential chisels. This chisel kit is best both for small and large projects and for craftsman of all skill levels from beginner and intermediate to professional ones. It is ideal for turning pens, spindles and bowls easily on any lathe size.
All the chisel of this set are made from HSS which stands for High Speed steel. HSS is able to withstand high temperature levels. Also the 5 1/4 inches of high carbon steel blades will gives years of use.
All the turning tools are crafted beautifully with 10-3/4 inches hardwood handles. The set includes lathe chisels which are as following.
1 inches skew chisel
1/2 inches bowl gouge
3/4 inches spindle gouge
5/8 inches skew chisel
3/16 inches parting tool
5/8 inch round nose chisel
5/8 inch spear scraper
7/8 inch roughing gouge
The most unique thing about PSI woodworking chisel set comes in an attractive and really elegant wooden display box. In short it is also a great overall super value chisel tool set for most woodturners.
---
3. HSS Woodworking Lathe Chisel Set by Savannah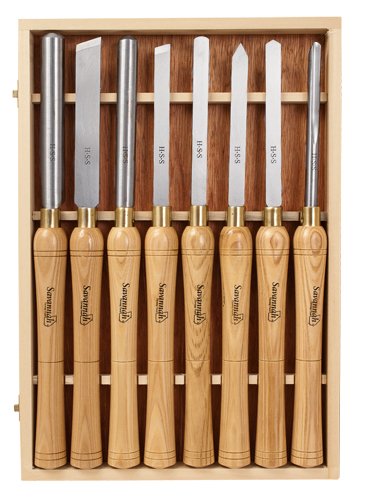 Another quality woodturning tool set is HSS woodworking lathe chisel set by Savannah. It is also a nice addition to turning tools available. This is one of the most complete set whose tool blade is made from High speed steel (HSS). The Savannah is an 8 pieces tool set which is by far one of the most popular, simple and high quality lathe chisel set we have found.
The tool handles is made from hardwood and they are approximately 10-3/4 inches long and the blade is around 5-1/4 inches which makes it a total of 16 inches long. This makes it a perfect set for beginners and advanced woodturners.
The tool set contains 8 woodturning tools as follows.
1/2 inches bowl gouge
1 inches skew chisel
5/8 inches round nose scraper
5/8 scrapper
3/4 inches spindle gouge
3/16 inches parting tool
7/8 inches roughing gouge
5/8 inches spear scraper