Do you find your body and muscles stretched and tired at all times? And you want a relaxing break or a wet massage to relive your body from a hectic work routine?
You might be really restless when you remain stressed even after having a full night bed rest. The only option you might think of could be to think of going to  massage therapist.
The therapist could help you release your muscular and mental stress for the restless day and night tasks you might have been doing.
Well the good news is that now you don't need to find or go to a good massage therapist as we are going to help you bring a robotic massage therapist for you to buy and ease yourself at the comfort of your home.
Yes you can now own your personal massage chair and we bet that it would help you relax even better than a human therapist. So if you have been getting lazy all the time sitting with wrong posture on your office chair for hours.
It is now time to dig in deep and find a suitable Massage chair for yourself which your whole family can enjoy to relax any time.
Massage Chair – An Introduction
Massage Chair is a great way to have a perfect complete body massage for a pleasing experience. They comes with different features and comfort ratings with price ranges from $500 to $9,000.
The better and high tech and high performing the chair is, the higher the price is. But you don't need to waste a lot of money in features you might not be needing.
we are going to help you review all of the most popular massage chairs so that you can choose one of the best chair which suits you and is within your budget.
Almost every high end massage chair in market now offers Full body massage, ZERO gravity Massage, Shiatsu Massage and a lot of more. We will breakdown all of them below. Before we start reviewing the popular massage chairs we would again like to tell you some of the extremely useful benefits of having massage on your body.
Benefits of Massage
There are lots of Human body massage benefits which are eased by these new generation massage chairs, but we will list here only the 10 best uses of massage.
Kills Mental stress
Stress and anxiety are one of the most common problems of people in today's world. Studies and researches have shown that if not treated properly stress can lead to many physical and psychological problems.
Few of the disorders of taking stress includes insomnia (Sleep disturbance), high blood pressure, fatigue, nervousness and general restlessness all the time. High End Massage chairs can cost you a bit more but they use heat therapy and focus on common stress areas like neck, head and shoulders to get rid of stress easily.
Relaxes Muscles
Sitting for long hours on your PC or laptop or driving a lot  can lead to sore and stiff muscles and you would have severe pains in lower back and lower leg.
A ten minute massage session everyday can help you loosen and relax those tightened muscles. This massage will help you get relieved from the pain you might face.
You can easily adjust the intensity of your massage from the massage chair settings as per your liking. Most of the massage machines have modes like compression, kneading and percussion and you have the freedom to choose the mode you like for your body part.
Improves Blood Circulation
Be it a human body massage or a machine massage, the Massage always increases blood circulation in the body. Increased blood circulation makes your brain sharp and you are able to work more focused.
It also helps speed cell growth and is indeed soothing to body. You feel relaxed and find more energy in yourself. Not only that but it also helps your skin and body gives a warmth it requires after a tough job.
Get a Baby Sleep
Oh yeah!! Everyone loves to become and sleep like a baby with no worries. Baby sleeps in an instant when he is contended. A little massage session before sleep will give you a relaxation which helps quit all the worries and stress you might be having.
Massage is insomnia killer which is a disorder of sleeplessness. So you are going to sleep like a baby next time you do your massage session.
Improves Immunity of Body
You might be really surprised to know that how a physical massage can improve the immunity of the body. Well in a study conducted by Gail Ironson, HIV positive group of people were treated with 45 minutes of massage with help of massage chairs with 5 days a week for 30 days.
The result indicated the increase of power and growth of cells which are considered as the 1st line of defense for any virus or infection in human body.
This impact is a long term and proves that regular massaging improves body capacity to fight bacteria and infections.
Cures Migraine Headaches
Migraine Headache is not your normal headache which can go easily with a dose of panadol only. It is a painful headache which affects only one side of the head along with blurred vision, vomiting and in some cases nausea.
Massaging regularly triggers the pressure points in the body which helps body remain in optimum position and helps avoid migraine attacks. In case of migraine headache, you can do a focused massage on head and shoulders which can alleviate the pain effectively.
Get Rid of Back Pain
When we have a 3 Million of cases with severe back pain cases alone in America, we needed a solution to get rid of back pain when no ones around.
Studies have shown a strong relevance  of massaging treating people with backaches and back pains. The best thing about massaging your back could last for more than 6 months.
So don't forget to try the Swedish or deep tissue massage in your massage chair next time you or your partner feels back pains.
Improves Body Posture
Poor sitting or standing posture is the main culprit of most of your neck and back pains. You must be really careful about your sitting posture and should not spoil your posture by sitting the wrong way.
Nor should you make sitting lazily your habit. But still massages can help your body get back to track. It is experimented that massage therapy helps you get back your natural and pain free posture.
Relief from Short Breaths
Running on stairs up or down might cause short breaths to most of the people who carry a bit of fat. But if your body keep on taking shallow breaths each and every time you walk that might be an indication of some problem.
Chances are that your abdomen and rib cage muscles are getting stretched which are keeping your body too engaged and you might feel restless.
Massage therapy can help ease this issue also by relaxing respiratory muscles and help them regain their normal movements instead of restricted breathing. So in short Massaging respiratory muscles help in restoring your normal breathing.
Improves Muscles Flexibility
The main aim of massaging or massaging chairs is to ease and relax the body muscles as much as possible. Having sore muscles in body will keep you stressed and you feel anxiety.
If you ever have cramps in your muscles you must already know how difficult it is to move any part of the body. Severe cramps don't let any muscles to move easily. So the muscles flexibility is restored if regular massaging is adopted.
Best Massage Chairs & Reviews 2018
Massage Chairs are constantly changing every year packed with some new designs and some awesome pioneering features being added.
As we mentioned earlier that their are tons of massage chairs in the market and it might be really difficult for you to choose which one would be best for you.
Massage chairs price ranges from $500 to $9,000. High End ones are luxury, comfortable chairs with tons of amazing features like L-Track, Zero Gravity massages and much more.
We are going to list each of our picks below with a short review of their features so that its easy for you to choose and buy the best massage chair for you.
But our Recommendation is to buy Kahuna L-Track Massage Chair if you are short at budget but want high quality product with a lot of amazing features (Review below).
Kahuna Massage Chair Recliner LM6800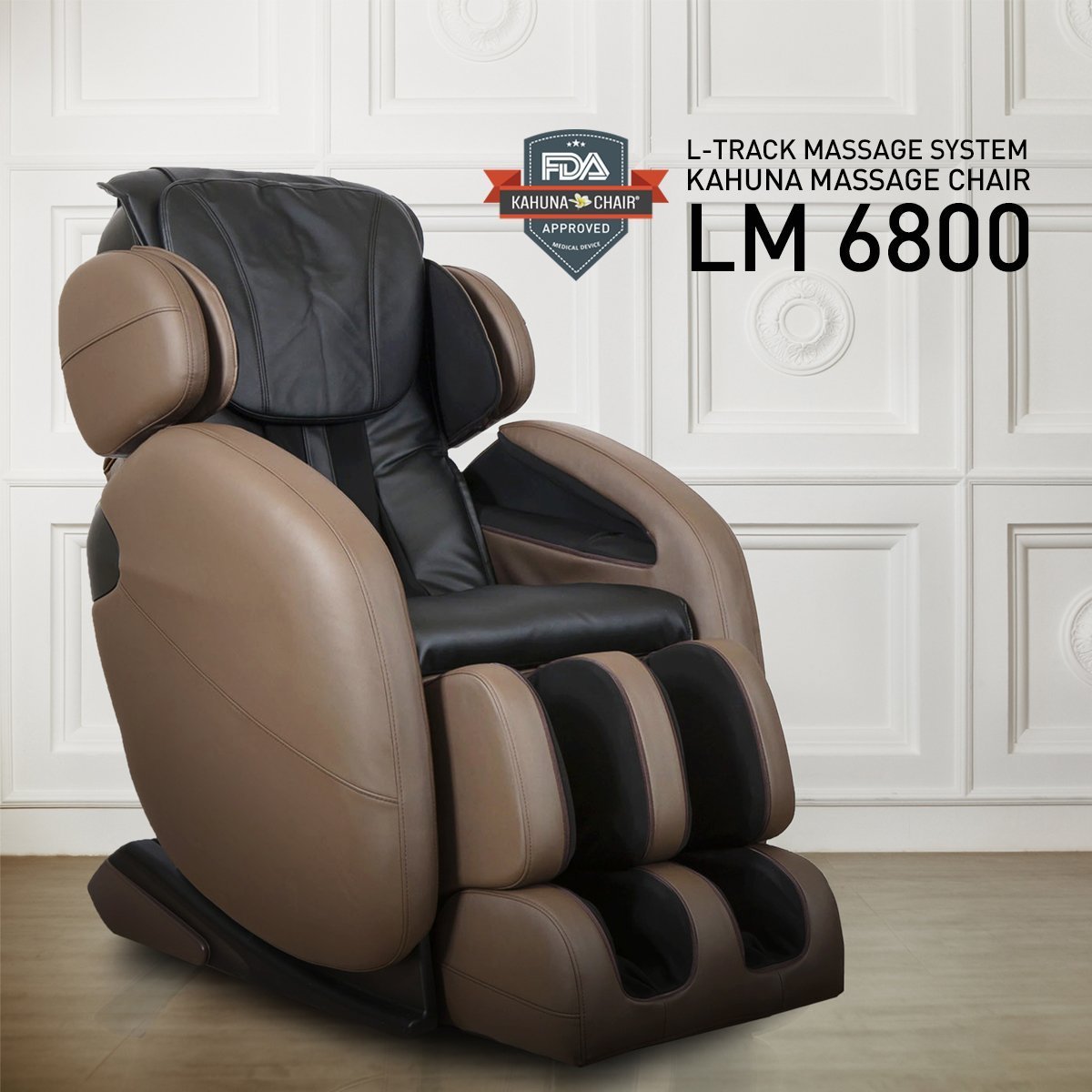 RelaxOnChair Full Body Zero Gravity Shiatsu Massage Chair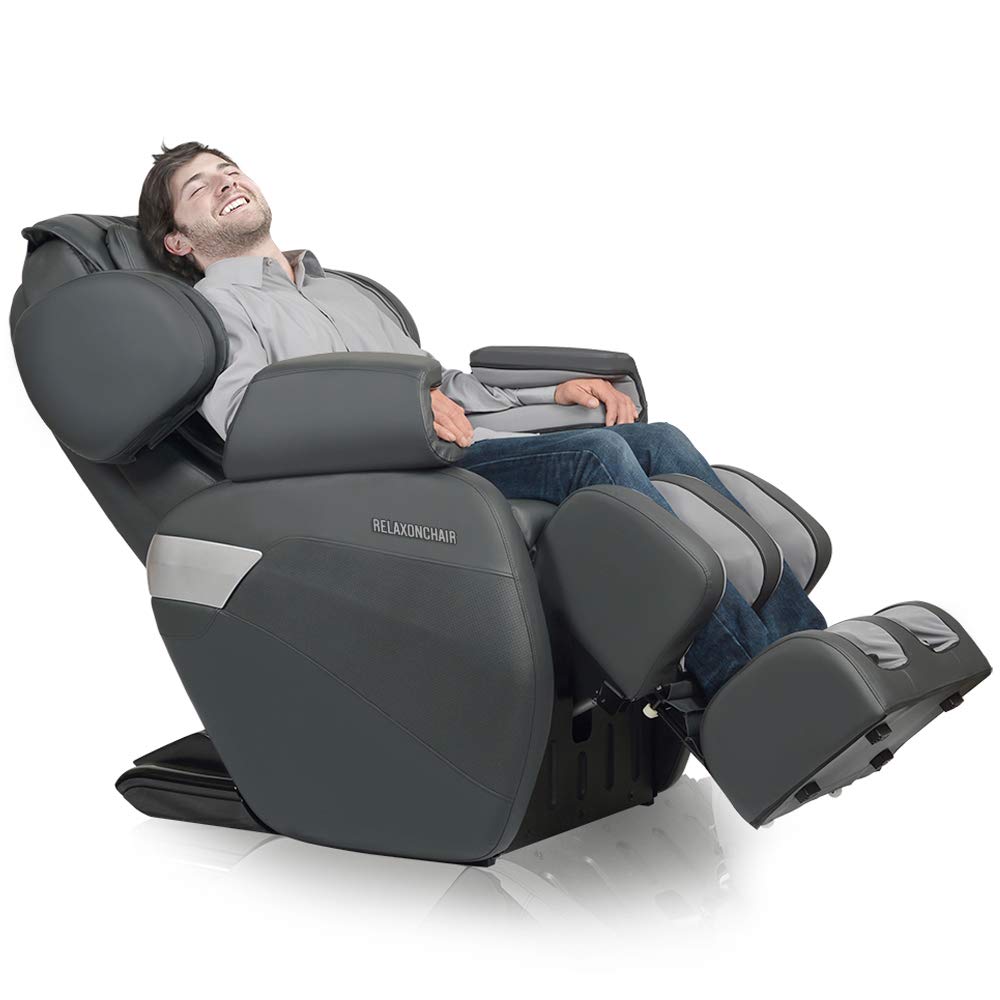 The RelaxOnChair MK-II PLUS Full Body Zero Gravity Shiatsu Massage Chair is also a good competitor of Kahuna L-Track LM 6800 Massage chair. RelaxonChair is a new entry in the market but they have proved themselves by manufacturing high quality and solid massage chairs with tons of features to help you relieve yourself. Both the RelaxonChair and Kahuna Massage chair offers L-track feature and there are a few specifications which are superior to Kahuna L-track chair and you might look for the best which suits you as the price is almost in the same budget range.
With the L-track feature, Relaxonchair massage chair offers the longest massage strokes from neck to buttocks. It is a great option if you have a job to sit for long hours in office. The chair is designed to give a deep tissue massage to your whole body which slowly and efficiently kneads out tight muscles and knots in your legs especially. The chair also supports computerized body scan which checks for contours in your body to give you a more personalized and humane massage for your utter relaxation. Not only this, Relaxonchair focuses on neck muscles to help you get rid of stiff neck at times.
The difference between Kahuna LM 6800 and RelaxOnChair MK-II PLUS Shiatsu Massage Chair is that it supports 3 zero gravity positions whereas Kahuna L-Track and all other chairs provides 2 zero gravity positions and being listed for around the same price, you get a really amazing deal for the price. It also lets you fully customize your massage sessions and that you can change the 3 speeds massage intensity controls as per your needs and convenience. Apart from this it also features 3 pre configured programs like tapping, kneading and combo versions.
It is really useful for people with Spinal Decompression as it has the functionality for a full body stretch. The chair grabs you in a position with a help of air cells and using motions technology, it stretches your back and leg muscles which help release the stiffness in muscles.
The Relaxonchair RC-MK II comes fully equipped with a full calf and foot massager and is extendable according to the height of person. But the downside of this massage chair comparing to Kahuna massage chair is that while it supports heat therapy. But is only for lumbar region whereas in Kahuna LM 6800 it supports both heating modules for lower back and also for calves.
The chair also boasts airbags to give a compression massage for ultimate relief. Not only this, it also have foot rollers under soles which triggers pressure points in the body for more body relaxation.
Another downside of this massage chair is that unlike Kahuna L-Track it is not space saving chair. This chair can easily take more than 2 feet of space from the wall when it reclines for a zero gravity position and it would be really difficult for you to adjust if you are short on space for having a massage chair which can take a lot of extra space.
PROS
Luxury Chair with 3 zero gravity positions
Full Body stretching and massaging
Foot Rollers for foot sole massage
Computerized body scan for stiff and hard muscles
Heat Therapy for Lumbar Region
3 Automatic and Manual pre-defined programs
CONS
Not your space saving chair
The conclusion is that its a good bet for the price and the amazing functions this RelaxOnChair RC MK II chair is offering.