Hand guns or more precisely the popular 9MM pistols are mostly used for self defense and as well as by security agency officials for close range combat situations and especially where you can not afford any shot to be missed. The 9MM pistols also known as 9*19 Parabellum was designed and created by George Luger.
The first official 9MM pistols was launched by German weapons manufacturers  Deutsche Waffen- und Munitionsfabriken in 1902 but the 9MM handgun still holds a great position among sharp shooting weapons. You might wonder why this 9MM pistols is so popular among people especially for military officials.
Well out of all the hand guns available the 9MM handgun is one of the most reliable hand gun because of its dominant features likes high velocity, compact and comfortable size and high magazine capacity.
Best 9MM Pistols
In this article, today we will be focusing on the top 10 9MM pistols based on the user reviews and product quality based on performance. So you can say that these are surely the best 9MM pistols you will ever find within $600 range.
10. FN Herstal FNX-9
FN Herstal FNX-9 is the best choice if you are looking for an Armour i.e 9MM hand gun which is a solid , long lasting and user friendly. Not only this its one of the cheapest 9MM pistol in the list too with a price tag of mere $500. Other awesome features of this pistol include perfect size of three sight dots, mounted safety docker, polymer frame, ring style external hammer and a trigger which assures the light weight yet non-compensated performance along with utmost accuracy and improved control then its previous models. With these great qualities you can indeed keep this pistol for yourself safety for years to come.
9. Glock 17 Gen 4
Glock 17 Generation 4 hand gun presents an excellent value to its user when it comes to reliablity and sharp shooting controls. The new Glock 17 is packed with some of the great built in features within a 7.7 inches long pistol which weights only 22.04 oz.Not only it possesses improved ergonomics but it incoroprates more aggresive grip plus side texturing and switchable back straps and a double recoil spring. Its the next wonder hand gun for pistol lovers and ranks on 9th spot of the best 9MM pistols one must buy now. Give this pistol a try and i bet you won't regret spending $520 on this gun.
8. Walther P99 AS 610
Walther P99 AS 610 9mm pistol is a perfect combination of setting a target to a specific and really accurate point without any hand adjustments and you can simply set the 9MM hand gun with sight straight on the target. Some of the amazing features of this hand gun include fully ambo controls, de-cooker and second strike capability and all is steel fixed which glows in dark sights, ergonomic grip and other striking features. The price for the pistol is fairly market about $600.
7. Taurus PT 92
Taurus PT-92 is a proud Brazilian 9MM pistol and is said to be a big product in the market of pistols and handguns. It is a full size semi automatic pistol which include features as double action/single action shooting and lock-work and an open topped steel slide. Being accurate, reliable, well designed, cool looking and comfortable hand gun the selling price of this pistol is only $500. Thus it can be blindly trusted and is a must buy for hand gun lovers.
6. Beretta 92FS (M9)
Berretta 92FS also known as M9 is an 8.5 inches long 9MM pistol with a height of 5.4 inches. The barrel is 4.9 inches and the weight of this aluminum framed hand gun is 33.3 ounces which includes all the amazing features like double action and single action and ambidextrous de-cocker to safely lower the hammer and is a good competitor  of Glock 17 9MM pistol and carry a price tag of $630.
5. Sig Sauer P226
The Sig Sauer P226 is a medium bore compact hand gun intended especially for concealed carry. It is almost like Bretta 92FS (M9) and Glock 17 Gen 4 but is a bit heavier than the both. As its a bit heavy with some loaded features the price of $900 tag on this 9MM pistol might scare you but the benefits and reliability of the pistol out weighs the price of this short gun.
4. Baby Eagle II BE9915R
Baby Eagle II BE9915R is a great product by IWI. This gun is praised a lot by Jeff Cooper so if you are a fan of him you would surely love his choice. With the ease of carrying cocked and locked it entails the barrel of 4.5 inches, overall length is almost 8.25 inches with the height of 5.75 inches and unloaded weight of this pistol is 41 oz. This 9Mm pistol is all steel made with amazing black oxide finish to make it shine. The double action trigger ensures safety by blocking. The price for this hand gun is $630 in market.
3. Springfield XDm
Springfield's XDm  is another great 9MM pistol with double stacked stainless steel 19 round mag, three sight dots, barrel of 4.5 inches steel and dovetail front and rear which is also steel. It is really accurate with some of the specs like deeper targeted, longer and more slide serrations. The melonite finish on the hand gun ensures fast and more accurate yet quick follow up shots leaving a thick, corrosion resistant and hard surface. This pistol is priced at $650.
2. EAA Witness Elite Match
Well we have on the list a 9MM pistol which is purely designed for newbie or female shooters which has the easiest operation possible with some wonderful shooting pleasure. Although it is not dedocked but won't you pay $580 for a pretty simple operated high capacity magazine pistol and is designed to be used in any hostile situation. The designer seemed to be impressed by CZ75 hand gun which is the top rated 9MM pistol of All Time.
1. CZ 75 SP-01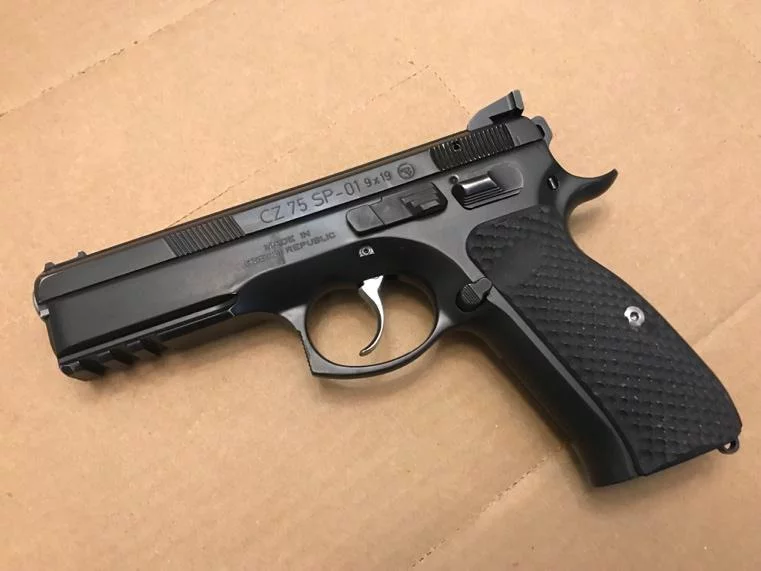 Here comes our all time favorite most popular and indeed worth 9MM pistol one must buy. The CZ75 Sp-01 is the new addition to the family of CZ 75 series of hand guns. Some of the features of CZ 75 are single action , double action, an integral accessory rail of 1913 on the dust cove, grip panels of rubber and a poly coat finishing done in black which is corrosion resistant.It gives the shooter a deep and secure grip by which the user is confident to shoot and fire the target easily. Some of the new and innovative features like cold hammer, fixed night sights and forged barrel ensures safety with buttons like manual safety, safety stop and firing pin safety. A perfect sidearm ammo and worlds Best 9MM Pistol for military officials and costs only $680.