Heat press machines are used primarily for T-shirt Printing. The process involves applying heat and pressure on a t-shirt for a specific period of time. If you are looking for the best heat press machine available in the market, you are in right place.
Choosing the best heat press among the large number of available brands in not an easy task. You have to be careful during the selection especially if you want it for your business.
As, the quality of print can have severe effects on the reputation of your business. So, you need a heat press which provides excellent print quality on T-shirts in less time and cost.
The working of heat press is similar to DYE sublimation printers as both use heat to print stuff. So, a prior knowledge of sublimation printing on T-shirts or heat press can lead you to perfect selection of machine.
What to Consider Before Buying a Heat Press Machine
There are a few factors that can help you to select the right heat press. You need to know that what features does the machine provide and what features you really need. If they contradict then that choice is not for you.
So, you must consider some necessary factors before committing to buy one.
Budget:
The most important thing to consider is your budget. You must know how to spend your money. Even with less money and better approach you can secure a better heat press machine for yourself. Usually, the newbies look for cheaper versions of machine and without going through the reviews they either end up buying expensive or low-quality machine which doesn't provide the quality of print required on clothing.
Top Platen:
The uniform print of machine completely depends on the top platen. In order to get an even print you need to have a look at the configuration of coil inside the top platen. The coil must be close to each other, covering the whole area.
Digital Timer:
The Digital Timer plays important role in T-shirt printing. It helps the machine to apply controlled heat and pressure for a specific time. Without a digital timer the heat press may over heat. This can burn the t-shirt and can damage your machine. So, buy a machine which comes with a digital timer.
Quality:
The quality of print and durability of machine matters a lot. Whether its your business or you are using it for personal usage, a good quality t-shirt printer will always stand out from the crowd. That is why,  always go for the trusted brands who have a lot of positive customer reviews and provide excellent customer services.
Best 7 Heat Press Machines: Our Top Picks
Following is the list of best Heat press machines for T-Shirt Printing which you can buy in 2020. All of them are evaluated on the basis of above-mentioned factors. Each machine is listed along with its features, pros and cons.
1. PowerPress Industrial Quality 15 x 15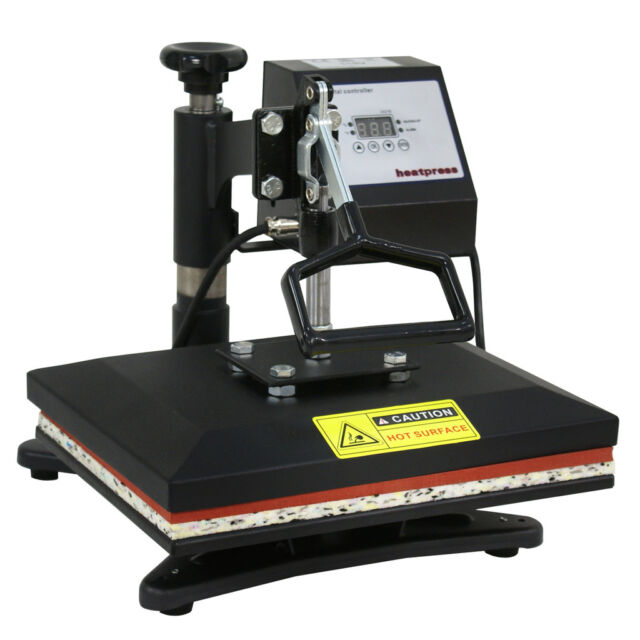 The ideal heat press machine, PowerPress, comes with magnificent features. Which can help you carry out printing at industrial level without any trouble. It has an exact 15 by 15 inches working surface. The product evaluation and customer reviews show that the machine is quite durable even if it is used at industrial scale.
PowerPress has adjustable pressure gear which help the user to change the pressure for different types of fabric. This can avoid burning of sensitive fabric. The digital watch maintains the temperature of machine in accordance with the time. So that the machine does not get overheated. In addition to this, an LCD board is present there to show the exact temperature and time.
You do not need to place extra sheet over the heat platen, as it is coated with Teflon for the safety of fabric. Moreover, there is silicon gel board on the bottom part of PowerPress. The heat platen is manufactured with high quality thick aluminum. The silicon gel board and aluminum plate ensure the uniform distribution of the heat on the whole surface.
With the above-mentioned features, you may have gotten the idea that PowerPress is really concerned about the safety and durability of their product. Along with all these features, they have also installed a replaceable fuse. In case of electric voltage disruption, the fuse will melt and will safe your machine from damage.
Specs
Printing Size: 15"x 15"
Temperature Range: 32 to 455 F
Time Range: 0 to 999 seconds
Voltage: 110 V
Power: 1400 W
---
2. Cricut Easy Press 2 Heat Press Machine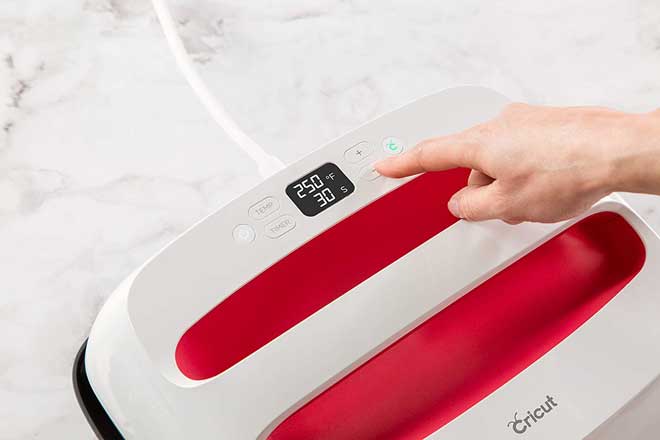 With the greatest number of positive ratings on amazon, Cricut Easy Press 2 made it to the list of best heat press machines. It is available in three sizes and various colors. Cricut is light in weight, which makes it easy to transport. It has a user-friendly interface which is easy to learn for the beginners.
The whole process of printing is automated. You just need to start the machine, apply pressure and then wait for the beep (that indicates end of process).
Before the start of printing process, the manufacturers recommend to preheat it for 5 seconds. This will result in better quality of print. As Circuit is similar to iron, there is no built-in feature to apply pressure. You are the one who has to apply the pressure. It is all up to you to apply pressure with single hand or with both hands.
However, you need to be careful about the material of fabric before applying pressure. There is Safety feature called "Auto off", which automatically turns off the machine after 10 minutes of inactivity. The thick heat platen comes with two heating elements. This maintains a flawless, smooth and even heat transfer, which is best among all available heat press.
Specs
Specs:
Printing Size: 6"x 7", 9"x 9", 12"x 10"
Temperature Range: Less than 60 seconds
Time Range: 0 to 400 F
Voltage: 120 V
---
3. USCutter 15x15 Digital Heat Press Machine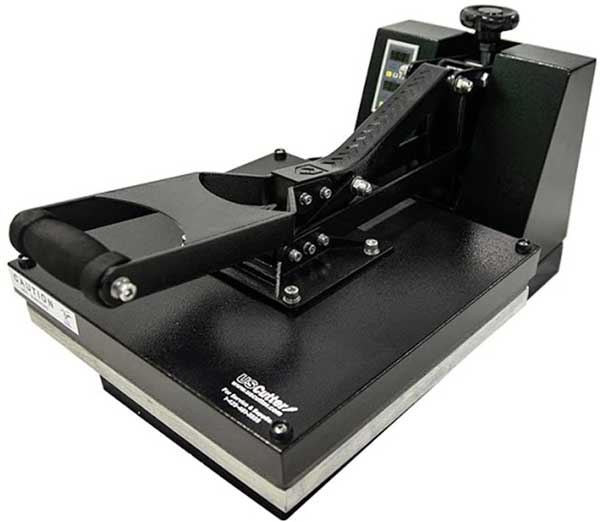 USCutter is a heavy-duty heat press machine with a rigid and durable steel frame. It is mostly used at industrial scale for bulk printing of t-shirts, bags or plates. This machine provides you a convenient and efficient way to manage your printing business. The package of USCutter comes with five sheets Siser EasyWeed Vinyl, two t-shirts for practice and one non-stick replacement sheet. EasyWeed is best sheet to transfer design on desired surface with perfection.
The non- stick replacement sheet is used between fabric and heat platen to avoid damage of fabric in case of overheating. With aluminum body and high density, non-stick heat platen, it has become the favorite heat press machine of large number of people.
USCutter comes with a pressure adjustment knob, you can use this knob to adjust the pressure according to the thickness of material. Moreover, it has an LCD to preset temperature and time for printing. Always make sure to enter the correct time and temperature or else you might get your t-shirt burned.
LCD also allows you to monitor the temperature throughout the process. As soon as the process completes, you will hear a beep and machine will turn off.
Specs
Printing Size: 15"x 15"
Voltage: 110 V
Warranty: 1 year
---
4. Mophorn 5 in 1 Heat Press Machine
Mophorn 4 in 1 is a multifunction heat press machine which also you to perform various task. It can support up to 4 different sizes of printing surface. The accessories include two plate press, one mug press and one hat press. In case, you are starting a business which deals with mugs, t-shirts and caps, this printer can be a good choice. As, you will no longer need to buy separate heat press for each machine.
Unlike other printers, it can print on the curved surfaces too. So, you can print on mug and caps along with the t-shirts. Its frame is well built with strong, rust and scratch resistant material. Which ensures its long-term use without any deformation or distortion of its sturdy structure.
The best feature of this Mophorn is its swing away design. This design gives convenient access to user to changing materials and transferring designs. Moreover, in this design the heat platen always faces towards the bottom. Which helps the printer in even distribution of heat regardless the thickness of material.
In addition to this, the heating plate is coated with Teflon to prevent it from sticking with the material. Just like other machines, you can set the desired time and temperature through digital timer. After you are done with printing you just need to pull its handle. The machines top will automatically rise due to gas spring design. Hence, you will get your design printed on your desired outfit in an easy way.
Specs
Printing Size: 2.8"x 5.9", 2.8"x 6.7",3.9"x 6.7",3.9"x 7.9"
Temperature Range: 200 to 430 F
Time Range: 0 to 999 seconds
Voltage: 110 V
Power: 650 W
---
5. F2C PRO 5 in 1 Digital Transfer Sublimation Heat Press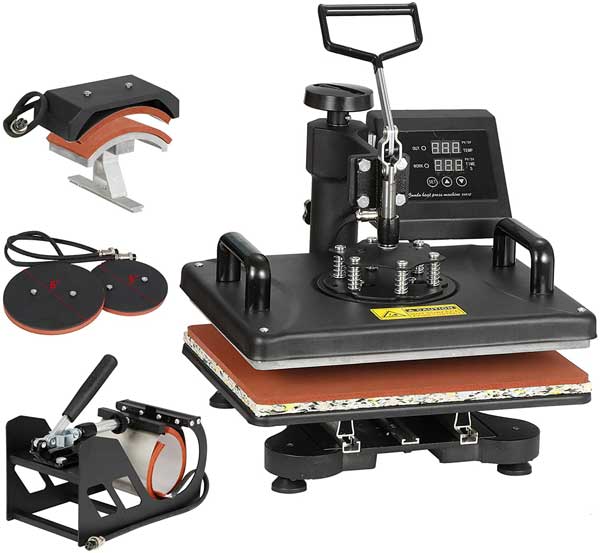 Similar to Mophorn, F2C PRO 5 in 1 with curved presses, allows user to print different surfaces. It is mainly used to print on ceramics and cylindrical shapes. Moreover, the surface area of press is wide enough to easily print on large materials.
The package of F2C PRO includes one assembled machine with platen press, two plate press, one hat press, one mug press, a cotton and a silicon pad. The cotton and silicon pads are mainly used to avoid Zippers, buttons and collars. It is recommended to have a quick look at the provided user manual to before printing for first time.
Just like other printers, the LCD allows you to set and monitor the current temperature and time. The unique feature of F2C PRO is its 360 rotation. The machine is capable of rotating and thus provides user with the best angle for work, making it convenient for them to print designs. It is best feature for the people who have to work for hours on this machine.
The thick aluminum heating plate provide a uniform heat flow for better printing. Other than these features, it has also has swing away design. Which is similar to the swing away design of Mophorn Heat Press Machine.
Specs
Printing Size: 12"x 15" for flat and 6"x 3" for curved
Temperature Range: 32 to 400 F
Time Range: 0 to 999 seconds
Voltage: 110 V
Power: 1200 W
---
6. Vevor 15x15 Heat Press Machine - [Best Seller]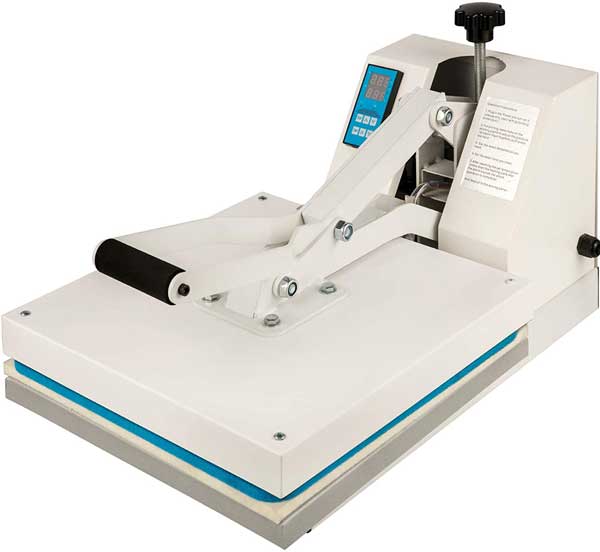 Vevor 15x15 heat press is an 8 in 1 machine. This means that it is capable of printing designs on eight different shapes or sizes of material. These include a Teflon coated heat platen, one cap press, two plate press and four mug press. This version is good for mugs as it provides four varieties in the size for mugs.
The switching of these presses can be easily done by unscrewing the bottom plate. After you are done with unscrewing, you just need to remove the old press and put the new press in its place.
With the 360 rotation and swing away feature, the machine smoothly moves away the heating element. These features protect you from contact with heated machine. As, any sort of contact with heating plate can injure you and can cause severe burns.
There is a removable fuse attached to protect the machine in case of electricity overflow or overheating. The pressure system of Vevor is a bit different from other machines. Although, it uses knob to change the pressure. But it has introduced adjustable multi spring balancer. This helps in applying even pressure all over the surface.
Specs
Printing Size: 15"x 15"
Temperature Range: 0 to 480 F
Time Range: 0 to 999 seconds
Voltage: 110 V
Power: 1400 W
---
7. FancierStudio Power Heat Press Machine
FancierStudio is a California based company. Which provides high quality heat press machines at an affordable price. Unlike above mentioned machines, it does not provide large number of applications. However, it can still be used for commercial as well as domestic purposes.
FancierStudio has a sturdy structure. Its strong handle allows simple and strong tasks to guarantee that you get your task done in less time.
The pressure is adjusted manually by a knob. However, the temperature and time are controlled digitally for more precision. An extra coating on heat platen and silicon gel board on bottom prevents it from damage and thus guarantees its durability. Its swing away design helps in uniform distribution of heat.
The Teflon on heating plate avoid sticking of t-shirt on its surface. This reduces your effort of putting a removable silicon or cotton sheet. In addition to this, the machine provides a high temperature of 699 F. However, 450 to 500 F is enough for most of the fabric. So, you need to be very careful while setting the temperature. The negligence in setting temperature properly might result in over-heating and burning of fabric.
Specs
Printing Size: 9"x 12"
Temperature Range: 0 to 699 F
Time Range: 0 to 999 seconds
Voltage: 110 V
Power: 1100 W
---