Among all the parts that you might have in your computer, nothing stands out in terms of value and importance more than your CPU. it's simply the workhorse of your computer that has almost everything else relying on it.
A computer's processor matters greatly. Whether you're building a new PC or upgrading your existing system, every detail about your choice can make a huge difference in the overall performance.
Luckily, AMD produces one of the best lines of processors known as AM3+. if you're looking for the best AM3+ CPU for your rig, you're in for a treat!
Since the AM3+ series has CPUs for all levels of performance, In this article, I'll review some of the best options it has.
Also, I'll walk you through everything you need to before buying the ideal one for your needs. So without further ado, let's dive in!
7 Best AM3+ CPUs: Our Top Picks
AMD Phenom II X4 840 Edition Deneb 3.2 GHz
AMD FX-6300 6-Core Processor
AMD Phenom Ii X4 965 Black Edition 3.4Ghz AM3+ Quad Processor
AMD FX 4-Core Black Edition FX-4300
While an AM3+ CPU is a great pick for almost everyone, there are multiple options out there with a wide variety of features. That's why finding the best AM3+ CPU can be a bit overwhelming and confusing.
To make the searching process easier for you, in the following section, I'll review some of the best AM3+ CPUs available out there. This will also help you pinpoint the one most suitable for your needs.
1. AMD FX-9590 8-core 4.7 GHz Socket AM3+ Processor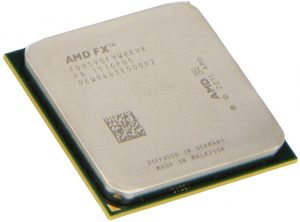 Kicking off the list with one of the best AM3+ processors out there. If you're building a pc or looking for an upgrade, the AMD 8-core FX-9590 CPU will provide you with an unrivaled performance.
It has an octa-core processor with a 4.7 GHz base clock speed. Yet, it's an unlocked multiplier, so you can still crank it up to 5.0 GHz max turbo speed. This is easily one of the highest frequencies available in the market.
The processor is compatible with motherboards that support 220W TDP. also, it requires a reliable liquid cooling system to prevent it from overheating.
It has a cache memory of 8 Mbs in both L2 and L3 capacity. This adds to the functionality of the CPU.
Additionally, the CPU comes with a Turbo Core 3.0 Technology. This one enables the CPU to give out the maximum computing performance while optimizing the workload across the 8 cores.
You need to know that this one, in particular, doesn't come cheap. Also, it's a relatively high-end option, so you have to make sure that you have the right hardware for it.
PROS
Impeccable clock speed
Piledriver architecture with 8 cores
AMD Turbo Core 3.0 technology for maximum performance optimization
CONS
Requires compatible high-end hardware
---
2. AMD FX-8350 8-Core Black Edition Processor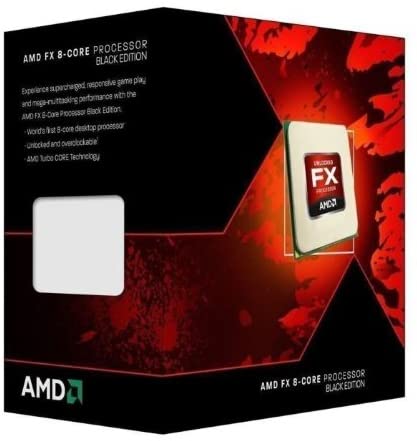 The FX-8350 is one of the most successful CPUs of the FX series. It has a base clocking speed of 4.0 GHz.
This base frequency is great enough to handle all the computer tasks and functions with ease. However, you can still overclock it a little bit to reach 4.2 GHz for demanding processes and games.
All that thanks to its octa-core processor that is also compatible with the OverDrive software that allows overclocking.
One of the unique features of the CPU is that it optimizes the number of operating cores according to the processor needs.
Similar to the FX-9590, it has an 8 Mb L2 and L3 capacity cache. This allows it to operate dynamic performance with memory-demanding applications.
The CPU is also designed in a way that prevents it from building up the heat in the motherboard. This helps it to stand the test of time and avoid wear and overheating while operating for a significant amount of time.
PROS
Easily overclocked with the OverDrive software
Built to avoid overheating when compared to other models
Adjust the number of operating cores according to the workload
CONS
The cooling fan can get a bit loud with time
---
3. AMD Athlon II X4 640 Processor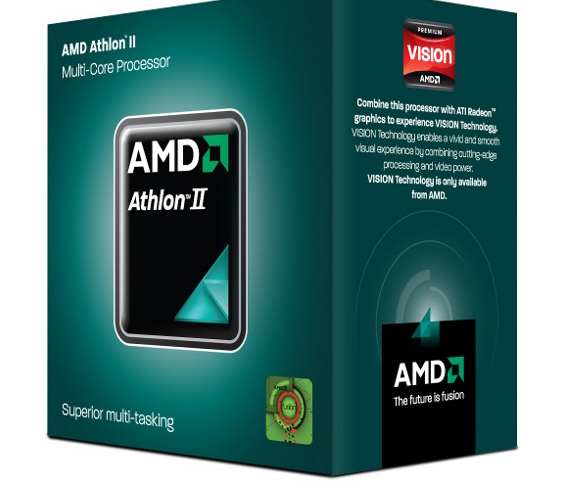 The AMD Athlon II X4 640 is a great choice for anyone who isn't looking for massive performance.
It's also a decent alternative for those who don't need the high-end features of the FX series. If you're on a budget, the Athlon II series is quite a catch for you!
One of the best things about this processor is that it's highly affordable and you'll be saving a decent amount of money going for that option.
Additionally, it's also energy-efficient. It comes with a Cool n' Quiet feature and CoolCore features, so it'll save you even more money on electricity bills.
While its slower and less powerful processor when compared to the previous ones, it still provides a decent performance when it comes to memory and performance optimization. All that thanks to its integrated memory controller.
One of the technologies that make that possible is the Hypertransport 3.0. This one increases the speed of communication between the different parts of the CPU.
It's compatible with both laptops and desktops and comes with virus protection software to keep your computer protected.
PROS
An excellent choice for buyers on a budget
Remarkably quiet
Stay cool for a long time
Energy-efficient choice
CONS
Doesn't provide high-end performance for advanced gaming
---
4. AMD Phenom II X4 840 Edition Deneb 3.2 GHz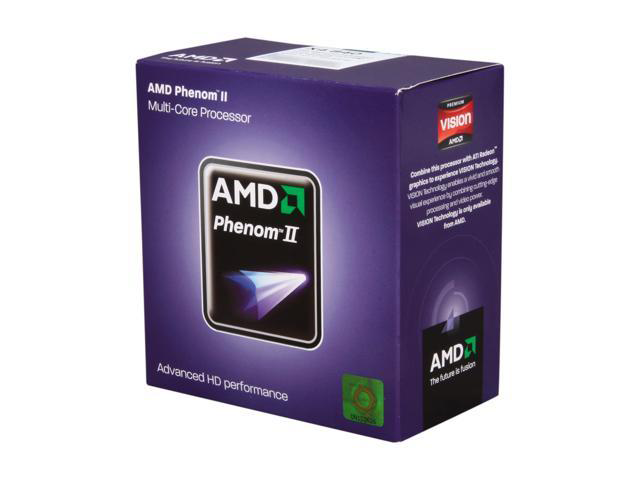 If you're looking for a quad-core processor that's reasonably priced while putting out a good performance, you should check this one out.
The AMD Phenom II X4 is a relatively medium-powered processor that comes at a much more affordable price when compared to its performance. It's backward compatible with a wide variety of motherboards including the AM2+ ones.
Not only that, but it's also compatible with DDR2 and DDR3 memory, so you don't have to worry about compatibility issues if you opt for this one.
Both CPUs share a similar Cool n' Quiet technology. Similar to the Athlon II X4 640, this one is super quiet and stays cool for a long time. Also, you won't have to equip it with any special coolers to get the job done.
The 3.2 GHz clock speed is good enough for browsing the computer and surfing the internet. You can also utilize it in gaming. It has rapid virtualization indexing technology that enhances the overall performance of the CPU.
However, it's not enough for intense gaming marathons, as the performance might fluctuate with time.
The HyperTransport technology allows it to transfer up to 16 GB of data per second. It comes with a power management technology that helps it consume less energy.
PROS
Excellent performance for its price
Backward compatible with many motherboards
Works with DDR2 and DDR3 memories
CONS
Performance might fluctuate in intense gaming
---
5. AMD FX-6300 6-Core Processor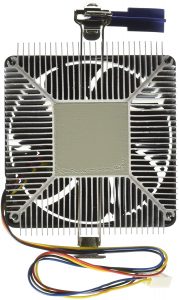 If you're looking for a relatively affordable version of the FX series, the 6th generation will come in handy. They have the best value per money within the series with a decent balance between price and performance.
The FX-6300 is a 6 core CPU that acts as a great option for 3D modeling and video processing in general. It has a remarkable memory bandwidth of about 30 GB per second.
This will allow your computer to work with an immense amount of data at the same time. This speed is possible with the help of the 16-way sub-cache feature.
Moreover, it comes with a dual cache system. The first one is 6 MB L2 and the other is 8 MB L3. This enhances the processor's ability to balance between memory space and speed.
PROS
A smart design that supports and heavy-duty processing
High memory bandwidth to support multitasking
compatible with a large selection of motherboards
CONS
Requires more power than processors in its class
---
6. AMD Phenom Ii X4 965 Black Edition 3.4Ghz AM3+ Quad Processor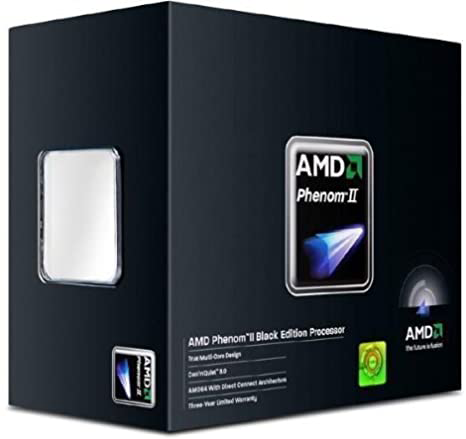 The AMD Phenom II X4 965 CPU is an enhanced version of the 945. It comes with a number of features that are similar but with some twists.
It has perfect backward compatibility that allows it to work with a wide variety of AMD motherboards. Nearly all motherboards with direct connect architecture are perfectly suitable for the processor.
It's a quad-core processor that has a basal clock speed of about 3.4 GHz. This frequency allows for an impressive performance and decent task completion time.
Also, it has the cores directly connected with each other, which helps in generating even higher levels of performance and smoothness. The design of the CPU makes all its processors work with their own L2 cache memory.
However, their data is shared among them through an L3 cache memory. This allows for a larger amount of data to be transferred between the cores.
Moreover, the communication between the cores of the CPU and other parts of the computer is enhanced with HyperTransport 3.0 technology. This enhances its networking communications as well.
Despite its impressive speed, the processor is significantly quieter than most processors of its class.
It comes with AMD's Cool n' Quiet technology that boosts the performance without causing a large amount of noise.
PROS
Allows higher frequency overclocking
Quiet and smooth
One of the fastest processors in its class
---
7. AMD FX 4-Core Black Edition FX-4300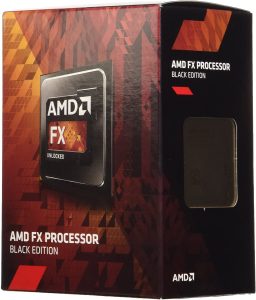 Last but not least, if you're looking for a quad-core processor with the features of the FX-Series, you shouldn't look further than the black edition FX-4300.
This CPU is the go-to choice if you have a relatively smaller computer. This way, you'll enjoy all the FX-series power without having to change parts for compatibility.
The quad-core processor also comes with a clock multiplier to allow for turbo-boosting. You can easily review the overclocking functions and adjust it to your liking.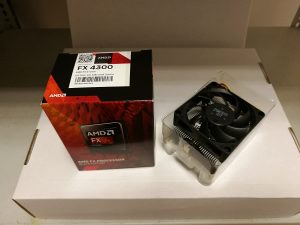 While most of the processors in the FX-Series are characterized by being a bit loud, this one is pretty quiet.
Similar to the AMD FX-6300, this one can also utilize up to 30 GB of bandwidth per second using DDR4 memory. The FX-4300 has a cache memory that works up to 8 MB at a time. This cache memory is divided into 4 MB of L2 and 4 MB of L3 cache.
The FX-4300 is a great choice for different purposes. For example, you can use it to play some AAA titles like Grand Theft Auto and Mafia III.
It has the ability to deliver up to 24% more frames for such demanding games. Also, you can use it for a faster audio encoding, so your music will play sooner.
PROS
A great choice for 3D modeling computers
Excellent audio encoding for faster music playing
More frames per second for games than its rivals
Allows overclocking up to 5.0 GHz
CONS
Requires a good cooling system for overclocking
---
What Is a CPU?
Before diving into the juicy details of the CPUs, you need to make sure that you understand what a CPU means and what it does.
A CPU is short for "Central Processing Unit" and is also known as the processor. As the name suggests, it's a crucial part of the PC system where it processes all the tasks on your computer.
It works by reading the functions stored in a certain program and executing these functions based on the instruction given by it. A PC processor will adjust, analyze, and control all the logic tasks that run when you're using a computer.
In other words, it's responsible for doing all the legwork thrown on it by other parts of the computer. As a result, having a more powerful CPU in terms of performance will mean a smoother overall experience while using the computer.
How to Read the Name of an AM3+ CPU
One of the critical points to understand how AM3+ CPUs is to learn how to read its name correctly. At the end of the day, all processors look technically the same for the untrained eye.
However, you can easily interpret a lot about the processor simply by understanding the way they're named. Here's how you crack the code!
Each CPU in the AM3+ series will have a technical name made of some letters and numbers. For example, an AMD FX-8350 or an FX-4300. The first part "FX" means that this CPU belongs to the FX series that's produced by AMD.
As for the numbers, the first one represents the generation of a processor. For instance, FX-8350 belongs to the 8th generation while FX-4300 belongs to the fourth one.
As you might've expected, the newer generations of a processor usually have better features and provide better performance and processor powers. However, they usually cost higher as well.
The rest of the numbers within a model name describes other features of the process. For example, it may dictate the amount of power it can utilize while operating.
As a rule of thumb, the higher these numbers, the more powerful the processor will be. As a result, they usually cost slightly higher in return.
Read also Best Sublimation Printers for 2020 [Reviewed]
---
Why Buying an AM3+ Processor is a Great Idea
When AM3+ CPUs came out, they took the world by storm. Of course, one of their best selling points is their price tag.
AMD made sure that AM3+ is significantly more affordable than their rivals. Yet, the processors provide excellent performance in terms of capabilities and smoothness.
In fact, AMD is popular for its affordable options that are great for anyone's budget. In fact, even AMD motherboards are also noticeably inexpensive. The best part is, AM3+ really didn't compromise on the price.
Although AM3+ and FX series are now overshadowed by Ryzen AM4 processors, they're still able to put on quite a show. In fact, benchmark tests show a tiny difference between them and Ryzen 3 for example.
To put it in the simplest way possible, AM3+ processors can provide you with a super solid performance as long as you have the right rig for it.
In other words, if you have a good combination of graphic card and RAM, you'll be able to make the most out of this brilliant CPU.
What to Consider Before Buying an AM3+ Processor
Choosing the right AM3+ CPU means faster tasks, smoother gameplay, and more. For that reason, it's crucial that you pay major attention to every aspect and detail about the CPU.
In the following section, I'll provide you with an overview of these important points. This section will also help you build an image of the ideal CPU for your needs.
The Motherboard
Your CPU will fit into the motherboards' socket. As a result, it's important that you make sure that your motherboard can support the design of AM3+ CPU pins.
AM3+ CPU has a pin diameter of about 0.51mm that you need to make sure that your motherboard supports. Some motherboards might support backward compatibility, in which they're able to support relatively older CPUs.
If your motherboard is too old for the processor, you might want to upgrade it. Also, you need to know that you can't use AMD processors on an Intel motherboard.
Both Intel and AMD processors use different technologies and architecture while designing their CPUs and motherboards. So, if you have an intel motherboard, you either need to get an intel processor or replace the motherboard with an AMD one.
The Number of Cores
The first aspect that you need to decide about your AM3+ CPU is the number of cores it has. A CPU usually has more than one processor. Each one of these mini processors is called a "core", and it's reasonable for working for specific tasks.
The more cores that your processor has, the more processes it can handle at the same time. Ideally, you need a processor that has at least 4 cores within the CPU.
These are called "quad-core" CPUs. However, if you're looking for a multitasking beast, you should opt for octa-core processors that have 8 cores.
Clock Speed
Some people call it the CPU frequency. However, both terms describe the same thing and are measured in the same unit. Clock speed dictates how fast your CPU operates.
It's measured in gigahertz (GHz) and increases as your CPU gets faster. A higher GHz CPU has a higher speed, so it's able to complete the given task in a shorter time.
Each CPU model comes with different clock speed settings where the CPU can adjust its speed based on the different aspects. These aspects include the unit temperature and the type of task it's handling.
Overclocking (Turbo Boost)
Each CPU has a base clock speed that describes the processes at its slowest speed. However, some CPUs allow you to "overclock" your process.
In other words, these ones allow you to push the speed of your CPU beyond its clock speed limits. This can be perfect for programs and games that are highly demanding in terms of processing power.
Overclocking a CPU must be dealt with caution, it might affect the lifespan of your processor if you aren't careful enough. Also, if you're going for an overclocking CPU, I recommend that you update your cooling system to avoid crashes and overheating issues.
Cache
The CPU cache is the amount of data that transfers at a time between the CPU and the Random Access Memory (RAM). the higher the cache, the more data transferring between the two parts at a time.
Cache capacity comes in 3 different formats. The L1 is the fastest but with the smallest space for data. The L2 balance between speed and space. Finally, the L3 will have the largest data storage but in exchange for being the slowest.
Multithreading
Some people confuse threads for cores. The reason behind that is that most CPUs have an equal number of cores and threads.
A thread describes the number of processes that your CPU can handle at a time. However, some processors have a multithreading feature.
This one allows the cores of your CPU to handle more than one action at a time. The most common one is a dual-thread core. This means that a multithreading 8 processor can handle up to 16 tasks at a time!
The Built-in Software
After you install the CPU to your motherboard, you should be able to install its software on your computer. This software is crucial to access some features and specifications of the CPU. For example, the software is where you usually overclock your CPU.
How to Install an AM3+ CPU on your Motherboard
Installing a CPU on your computer might sound like a complicated process. However, it's quite simple if you've got everything right.
Before starting, you need to make sure that the CPU chip is compatible with your motherboard model.
To make things easier for you, you need to remove the motherboard from your computer and lay it on a flat surface.
Also, shut down your computer and unplug it from the wall for extra safety. Here's what you should do:
Open the sock lever that holds down the CPU in place
Remove the old CPU if you're upgrading
Align the new CPU chip with the pins
Gently push the CPU chip all the way in (it should feel like its clicking into position)
Apply the thermal paste on the CPU
Now that the processor is in place, you can fit the cooler of your choice. You can easily apply the stock cooler that might come with the product.
The AMD cooler that comes with the process can easily fit your CPU chip. You'll find a plastic cooler mount around the processor socket in the motherboard. You can fit in the cooler using the two nodules sticking out to hold the cooler clips.
You can also use a third party cooler if you want better performance and longer processor lifespan.
The Cooler Master Hyper 212 Evo CPU Cooler is one of the best coolers for the FX series. It also comes with all the wires needed for the task along with clear instructions on how to fit it.
Final Verdict
There you have it. A complete guide with everything you need to know before choosing the best AM3+ CPU for you.
As you can see, there's a wide selection of options to opt for based on your needs. If you're looking for an absolute beast of a CPU, the AMD FX-9590 is your way to go.
It has one of the highest clocking speeds on the market along with being unlocked, so you can overclock it. However, you need to remember that it requires a generally high-end 220W motherboard.
If you're looking for an all-round perfect CPU that has a decent processing speed while fitting a mid-tower rig, you can't go wrong with the AMD FX-8350.
For an excellent price, you'll enjoy a processor that delivers a performance that would give some of the latest CPUs a run for their money.