Looking for the best wireless router to buy for your home or office?
Look no longer.
As we've reviewed and analyzed a list of the best wireless routers you can buy.
In today's world, most people couldn't possibly function without a good wireless router. However no so long ago, having wifi or anything wireless in your home was a dream come true! Wi-Fi has become an essential part of our lives. It's actually hard to believe there was a time we lived without it.


Today, Wi-Fi plays a vital role in both our personal and professional lives. We depend upon it for work, communications, security, shopping and entertainment. Everyone uses Wi-Fi, from schools, businesses, restaurants, coffee shops and homes.
Wireless routers are able to help us in this regard. Wireless routers transmit Wi-Fi signals to our mobile phones, iPads, Kindles, laptops, computers, and other devices without the need of an Ethernet cable. Basically, everyone needs a router.
There are a number of different routers to choose from; some are faster than others, some provide additional ports, some offer "network attached storage" or NAS (NAS connects hard drive storage to another port and allows information to be accessed by other devices connected to that network).
A lot of wireless routers are pricey and have functions that the average user may not need. Typically, those with additional functions are better suited to large businesses.
In which case, we've collected a list of the best wireless routers which we found to be most suited to the common home.
Best Wireless Routers: Our Top Picks
We've researched a list of the best wireless routers and highlighted each in terms of function, performance, and price. We hope this list will help you make a decision about which wireless router is best for you.
1. Asus RT-AC88U – Editors Choice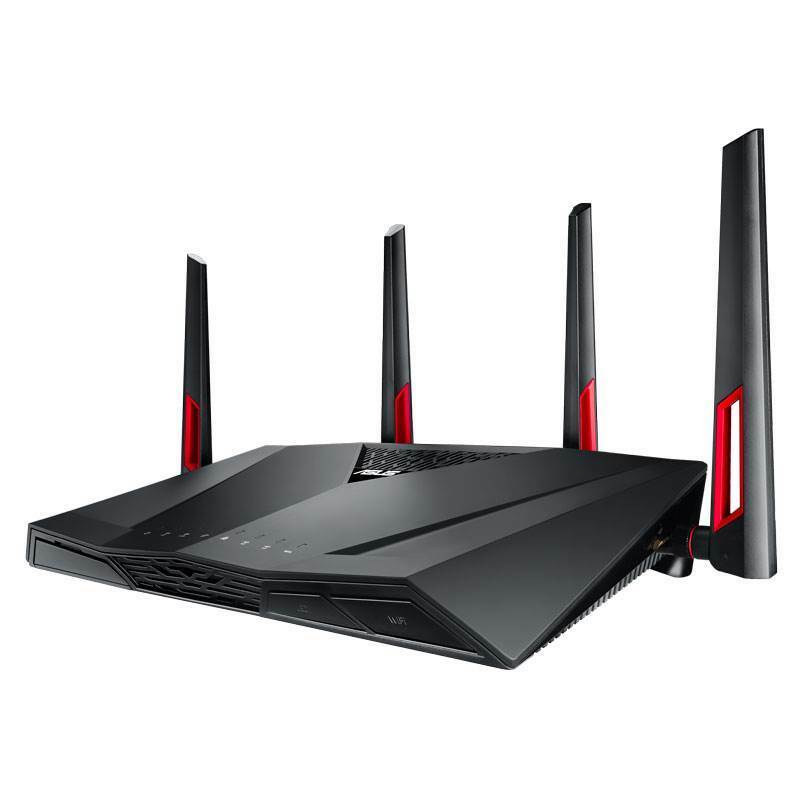 Asus is well-known for high-end routers and first-rate gaming hardware. The Asus RT-AC88U is rectangular shaped with four protruding antennae, edged in red. J.D. Power ranked ASUS "Highest Customer Satisfaction with Wireless Router in the U.S."
The RT-AC88U is 80% faster at 5 GHz at up to 2100 Mbps, 66% faster at 2.4 GHz at up to 1000 Mbps. It also has an 8 GigabitLAN port that offers high-speed Internet without performance drops. By switching devices, ASUS Smart Connect delivers consistent bandwidth by dynamically switching devices between 2.4 and 5 GHz bands based on speed, load and signal strength. It's also dual-band and can act as a NAS.
Connecting the Asus RT-AC88U is easy as it comes with a Quick Internet Setup Wizard. After you connect the router to your PC and the Internet and turn it on, the Web-based console takeoffs and provides choices via the Wizard or through manual configuration. The Wizard inspects the Internet connection and, depending upon your selection sets up the router as a DHCP, Static IP, Dynamic IP, or PPPoE. You then name SSID and make up a network encryption key for each band. Select Finish, and you're done..
The Asus RT-AC88U Dual-Band Router utilizes a Multi-User Multiple Input, Multiple Output (MU-MIMO) technology to serve multiple Wi-Fi clients concurrently without forfeiting bandwidth. Each client, however, must hold a MU-MIMO-compatible network adapter if they want to use this technology. The router is armed with numerous Gigabit LAN ports and multiple USB ports. The router offers a lot of management options in a considerately designed user interface and provides intense throughput on the 2.4GHz and 5GHz bands.
The Asus AiProtection feature utilizes Trend Micro's Smart Home Network to recognize viruses and malware and block malicious sites. It additionally provides parental controls, app filtering, and planning. With the AiCloud feature, you can access your data from a tablet or smartphone using an Android app or iOS.
Advanced settings let you to produce wireless SSID names, select a security protocol and an authentication method, facilitate WPS settings, and configure VPN, RADIUS and wireless bridge settings. In the Wireless Professional Settings page, you can modify beamforming, multicast rates, settings, and wireless scheduling. The Firewall settings page provides URL filtering, Denial of Service security, and keyword filtering.
The Asus RT-AC88U Dual-Band Router has a very fast throughput performance, a fantastic feature set, and a simultaneous multi-client MU-MIMO data streaming. It produces excellent scores on 2.4GHz and 5GHz throughput tests.  Read/write file-transfer scores are  average. It provides extensive management features in an easy-to-use interface that includes gamer-friendly QoS settings, advanced file sharing, parental controls, and mobile cloud services.
At under $300, it's a great deal and one of our top choices for high end routers.
There are four detachable external antennas – two one each side and two on the back. Also on the back, there are a horde of ports, an enormous eight Gigabit Ethernet port, a USB 2.0 port, a WAN port, and a Power jack. As well, there's are power, reset, and WPS buttons. A USB 3.0 port is in the front.
Asus RT-AC88U Wireless Gigabit Router Video Go Through from ASUS.
The setup video for ASUS RT-AC88U Wireless Giga bit Router will help you install and properly setup this awesome and highly recommended ASUS router is here.
Pros
Outstanding range and speed.
Great robustness.
Strong reach and signal bandwidth.
Cons
Placement of the USB 3.0 can be difficult.
Performance averages when used as a NAS.
2. NETGEAR Nighthawk AC1900 Smart Wireless Router (R7000)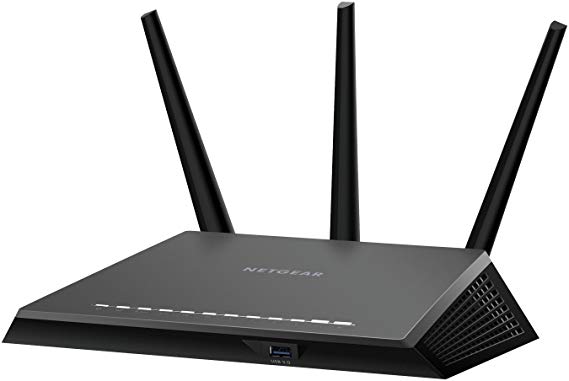 The NETGEAR Nighthawk AC1900 Smart WiFi Router has an OpenVPN Connect App that allows access to a network through a mobile device. It also has a 1GHz dual-band router plus dual core processor and AC1900 Wi-Fi: 600+1300 Mbps Speed. It offers progressive features for break free gaming and a prioritized bandwidth for streaming music and videos. Beamforming improves range and performance and ReadyCLOUD USB and ReadySHARE permit USB disk access. It adapts with Time Machine on Mac devices and NETGEAR genie allows remote access.
NETGEAR Nighthawk AC1900 Smart Wireless Router offers great speeds on the 5GHz band when matched with the mini 11 adapter. Average throughput at 2.4GHz and it takes its time applying settings changes. With 802.11ac, however, the speed factor is important at 5GHz, and it performs well in both data rate and in range. The Nighthawk can also be flashed with an open-source firmware.ac A6100 USB adapter.
The router is sizeable. It measures 1.97″ x 11.22″ x 7.26″ (HWD) and weighs just over 1.6 pounds. Netgear overhauled the design from the prior release of dual-band routers (Centria and the R6300), both of which had upright designs and were intended to operate vertically. The back panel are Gigabit WAN and four Gigabit LAN ports, a power button, and a reset button. On the top are LEDs, Internet, USB device connections.
The hardware specs run warm – warmer than room temperature. It, therefore, should be place where there is good air circulation.
The Nighthawk wireless router operates horizontally and can be wall mounted. The wide based design makes it extremely sturdy, through there are cables connected to every port. With a wide base and rubber feet, it's a large top router.
The NETGEAR Nighthawk AC1900 Smart WiFi Router demonstrates performance issues on 2.4 gigahertz. It's under $200, so considering the price-performance ratio, it's still one of the best routers of 2020.
There is a powerful dual-core 1GHz processor inside. It supports 600Mbps at 2.4GHz and up to 1300Mbps at the 5GHz band. Three external antennas came along with the router and attached to the rear panel. The router had 128MB flash memory and 256MB RAM.
There are two USB ports – one on the front and one on the rear. The front port is USB 3.0 and was deliberately placed in front, away from the 2.4GHz radio to reduce Wi-Fi signal interference. The back port is USB 2.0. and is to be used for the 2.4GHz radio, to reduce Wi-Fi signal interference. Both, however, would support USB storage and printers.
On the back panel are Gigabit WAN and a reset button, four Gigabit LAN ports, and a power button. Internet LEDs on the top of the router indicate wireless, USB device connection, and other network activity status.
The NETGEAR Nighthawk AC1900 Smart Wireless Router is simple to set-up. An installation guide comes with the package and summarizes what needs to be done. It's very easy and clear. The last step instructs the user to launch the Web browser and finalize configuration. Such will bring up a page that confirms that the router has been connected to the Internet and the pre-configured wireless SSID and passphrase. Selecting the "Take me to the internet" link redirects the page to NETGEAR's external website where you can download management router apps and/or access links for support.
Check out the Netgear Nightwalk router Product tour official by Netgear.
Netgear explains how to install and setup your nighthawk AC1900 smart wireless router step by step in this video.
Pros
Great range.
Excellent QoS.
Full VPN capability
Cons
Bulky and large.
Performance issues on 2.4 gigahertz.
3.  D-link DIR-890L AC3200 Ultra Wireless Router
The DIR-890L/R reaches speeds up to 3,200Mbps (600 Mbps on the 2.4 GHz band and 1,300Mbps on each of the two 5 GHz bands). Advanced SmartConnect distributes the best possible band for maximal Wi-Fi performance and tracks your connected devices for enhanced Wi-Fi speed and range. Its Web-based management console is easy to use, simple to set and configure, and can be managed remotely through a smartphone with a mydlink Lite mobile app.
The router is really cool. Red and pyramid shaped, with six black antennae.
The D-link DIR-890L AC3200 Ultra Wireless Router is optimal for those who own multiple Wi-Fi devices and/or large residences with numerous people requiring Internet use. It may, however, be too complex for an everyday, general consumer.
The Ultra Wireless Router DIR-890L/R D-Link is pretty big, but so what? It looks so cool. Like the shiny red sports car you always dreamed about. And, yet, it's a great router. It has six adjustable antennas.
On top, there are six LED indicators that show USB port and 2.4GHz and 5GHz band activity and Internet-connection and power status. Four Gigabit Ethernet, Internet, and two USB (one 2.0 and one 3.0) ports, along with reset, Wi-Fi Protected Setup (WPS), and power buttons, are on the back. 1GHz dual-core processor and circuitry that supports 802.11b/g/n/ac wireless networking are under the hood.
The DIR-890L/R can reach hypothetical speeds of up to 3,200Mbps (600 Mbps on the 2.4 GHz band and 1,300Mbps on each of the two 5 GHz bands). It supports Beam forming technology to focus on wireless clients for better signal reception, and SmartConnect technology, which behaves as a regulator to guide wireless clients to a band with the most bandwidth. The router provides an easy-to-use Web-based executive console for simple setup and configuration and can also be ran distantly through a smartphone using the mydlink Lite mobile app.
Installation is simple and should only take a few minutes. Connect the router to the PC with the supplied Ethernet cable. Enter the router's local IP address and utilize the Set-Up Wizard to design the router. If you plan on using customized SSIDs, security systems for each bands, and router names, it might take a more time.
The Promo of D-link DIR-890L AC3200 Ultra Wireless Router product preview from Dlink along with complete features.
D-link DIR-890L AC3200 Ultra Wireless Router installation and setup process.
Pros
Intense throughput speeds.
Good range performance.
Very little problems.
Easy setup.
Cons
Expensive (around $300)
Large footprint.
Mediocre file transfer performance
4. Netgear Nighthawk R8000 X6 Wireless Router [Best for Gaming & Video Streaming]
Netgear Nighthawk R8000 X6 is very unique. The Nighthawk X6 AC3200 Router 's Tri-Band WiFi technology was made to connect to every single Wi-Fi device (laptops, cameras, consoles, tablets, games, phones, TVs, etc.), spontaneously and instantly. A mighty mix of features and a wireless speed of up to 3 Wi-Fi bands, 3.2Gbps, Smart Connect intelligence, and Dynamic QoS, ensures that all those devices receive the speediest WiFi connection. It's also the Best Gaming Router of 2020.
Netgear Nighthawk R8000 X6 can double as NAS with the attachment of an external hard drive. The NAS performance is good for the price, unlike other routers, and it provides amazing speeds over the 5 gigahertz band. Speed, however, on the 2.4 gigahertz band, is, well, just average.
The Netgear R8000 Nighthawk X6 AC3200 is a remarkable wireless router with a few deficiencies.
The Netgear Nighthawk R8000 has one 2.4-GHz channel and two 5-GHz channels. Its fold out antennas uses beam-forming techniques to carve the signal to outfit the receiving antenna. They extend up to 3.3-inches and can be adjusted up to a 140-degree angle. Be careful, though, they can't be replaced.
It has a four gigabit Ethernet ports for wired connections and USB 2.0 and 3.0 ports that can work with a printer and an external hard drive. It will also create a modified URL for gaining remote access to the drive's contents. The R8000 has security protects the network and blocks specific clients and sites. It also uses security protocols and WPA2/Enterprise encryption. It supports using a Virtual Private Network (VPN), Stateful Packet Inspection (SPI), and Network Address Translation (NAT) firewalls. It has a Guest network that permits Web browsing while blocking access to network drives, but it doesn't use industrial-strength LDAP client authentication for added security.
The Netgear Nighthawk R8000 has a 1-GHz processor and 256MB of RAM and 128MB flash storage space for firmware, passwords and settings.
At $300, the Netgear R8000 router is one of the most costly. But, for maximum range, Netgear Nighthawk X6 AC3200 (R8000) is a top router.
Installation is simple. Prepare and connect the modem, plug it on, and then log in to the router. Launch a web browser and the NETGEAR genie will displays (if no genie,
Search routerlogin.net in the address field, then, user name: admin, password: password. Then follow the genie's steps to connect to the Internet).
Here is the detailed video walk through of the Netgear Nighthawk R8000 X6 Wireless Router of how to install it properly for your place.
Pros
The hardware is one of most powerful of all other wireless routers.
Intensely fast Wi-Fi.
Stellar and sturdy build quality.
Solid NAS performance (when connected to an external hard drive).
Cons
Router does not perform well on 2.4 gigahertz band.
5. Asus RT-AC3200 – Tri-Band Wireless Gigabit Router
The Asus RT-AC3200 – Tri-Band Wireless Gigabit Router is intended for multiple Wi-Fi users that compete for the most wireless bandwidth. In order to provide such benefits, it's big and utilizes six antennas. Throughput speed on all three bands is extremely good and the user interface is simple to grasp. File transfer, however, is second-rate, at best. Still, it's loaded with features, but it costs $300. The router can double as an OpenVPN server or act as a NAS. The Asus RT-AC3200 might be too much for the normal consumer. If you are not interested in the AC3200 capabilities, you could go for a cheaper AC1900.
While the Asus RT-AC3200 is costly, its features justify it, that is, if you're willing to pay for them. If you're a networking enthusiast and performance matters to you, you're probably nodding in agreement.
Installing the Asus RT-AC3200 is fairly straightforward. When you initially turn on the router, a Setup Wizard screen gives you the choice of running the Quick Internet and Router Setup wizards or using a Manual procedure. Whatever method you chose, you'll need to create a password and choose whether the device will function as an access point wireless router, or media bridge. Then, you'll need to select one of the five Internet connection types: Automatic IP (DHCP), PPTP (VPN), Static IP, PPoE, and L2TP (VPN). Then, you can utilize the SmartConnect feature to set-up the Wi-Fi network. Or, if you'd like, you can select the Standard Setup and enter SSIDs and network keys for each band. Then, the UI network map will appear and you'll be done.
The RT-AC3200 is very large, with six removable antennas. It has four gigabit LAN ports and one gigabit WAN (Internet) port on the back. There are two USB ports on the and one USB 3.0 port one the front.
On the inside, the RT-AC3200 packs potent hardware. It runs a Broadcom BCM4709 dual-core 1GHz processor with 256MB of DDR 3 system memory and 128MB of flash storage. It has enough power as a small server and ranks among the most powerful top routers on the marketplace.
One may not think it's worth it's roughly $300. That will depend upon whether the buyer wants the power. It has strong hardware, good performance, and a variety of useful features, including the capacity to keep malware from entering your network, and it can also work as a dominant VPN/NAS server. Those who do a lot of demanding tasks will find this router worth the price.
Here is the unboxing and proper setup of this awesome tri band wireless router by ASUS.
Pros
Good 5GHz throughput.
Lots of advanced features.
Incredibly powerful hardware.
Router can work as a NAS server and an OpenVPN server
Cons
Expensive.
Large footprint.
Ordinary file-transfer performance.
6. Amped Wireless Router RTA2600 Athena High Power Router
The Amped Wireless RTA2600 Athena is one of the limited models that provide Multi-User-Multiple In, Multiple Out (MU-MIMO) network streaming. It provides solid 5GHz throughput in testing and can serve multiple devices at once without sacrificing bandwidth. It's easy to set up, but it doesn't have good range. The router has powerful hardware that should erase any performance issues. Performance was expectable. It might not be ideal for staunch network enthusiasts, but it will work sufficiently.
The Amped Wireless Router RTA2600 Athena is the ultimate router for users with multi devices. With 1.4GHz processors, 16 high power amplifiers, and 4 high gain antennas, it delivers unrivaled Wi-Fi performance. It provides unique coverage, reliability, and speed for the most challenging networks with many connected devices. Exceptionally fast AC2600 Wi-Fi technology provides up to 2.53Gbps, eliminating lag and buffering. The Athena also features sophisticated MU-MIMO technology, which enables multiple devices to receive data simultaneously, providing uninterrupted streaming for everyone.
The Athena RTA2600 features black construction and measures 1.4 by 9.0 by 6 inches. It also has status LEDs for power, Internet, USB, and radio band connectivity. The rear panel holds four Gigabit Ethernet, one WAN (Internet), and one USB 2.0 port, along with a Wireless Protected Setup (WPS), Power, and status LED switches. A USB 3.0 port is on the right sider.
Key features include Maximum Wi-Fi Range, 16 Powerful Amplifiers and four Antennas, Amplified Wi-Fi with advanced amplifiers and four antennas, speeds up to 2.53Gbps: 2.4GHz 800Mbps + 5GHz 1733Mbps3, four 4 Simultaneous Wi-Fi Streams and a High Power Qualcomm Processor along with A 1.4GHz dual core processor.
Pros
Utilizes multiple-in and multiple-out, multi-user technology
Easy to set up
Solid 5GHz performance in testing
Cons
Expensive
Slow storage-file transfer speeds
Lacks features available on competitors
Price may turn off some buyers
7. Linksys WRT1900 AC – [Best DD-WRT Wireless Router]
The Linksys WRT1900AC Wi-Fi router delivers strong networking hardware, has great Wi-Fi range, excellent data charges, and supports add-on storage with unmatched NAS performance. 1.2 GHz dual core processor, 4 Gigabit Ethernet ports, and Linksys Smart Wi-Fi software with Network Map. It features beamforming technology, which emphasizes wireless signals at a receiving device, instead of just sending out Wi-Fi in a general direction.
The Linksys WRT1900 AC is one of the fastest routers. It's powered by a 1.2GHz, dual-core SoC (system-on-a-chip), 128MB of flash memory, and 256MB of DDR3 RAM. It also has a cooling fan located at the top of the unit.
It has four external antennas, though it supported three spatial streams for both transmitting and receiving. The antennas were detachable and Linksys indicated that there could be a future, optional high-gain upgrade. The Marvel chipset utilized implicit and explicit beam forming to determine which three were delivering optimal range between them. Such could dynamically switch between them.
The router, though large, comes in a cool blue color with sharp antennae placement.  A row of LEDs stretched across the router's front, along with small white text labels and symbols, all of which noted power status, Internet access, 2.4- and 5GHz radios, eSATA and USB connections, switch ports, and WPS (Wi-Fi Protected Setup). A WPS button, a four-port gigabit switch, a WAN port, one USB 3.0, one eSATA/USB 2.0 combo port (another first), a power switch, a reset button were on the back.
The Linksys WRT1900AC's was supreme for file transferring files from an attached hard drive. It performed impressive with regard to reading a single 10GB file from a hard drive attached to the router to the hard drive in a desktop PC (80 megabytes per second). It was, however, and the firmware was new. But, still, the Linksys WRT1900AC is one of the fastest 802.11ac routers to buy.
Installation
The standard firmware that comes with the Linksys WRT1900AC utilizes a simple four-step procedure for initial setup"
Step 1: Attach the antennae and power.
Step 2: Attach the upstream Internet link to the proper router port.
Step 3: Attach the Wi-Fi signal to the router. You'll receive a name and password for each individual router that effectively eliminates the security exposure inherent in initial router setup.
Step 4: Log in to linksyssmartwifi.com and setup your router.
Pros
Powerful hardware.
Amazing Wi-Fi range
Excellent speed.
Superb NAS performance
Cool retro design
Cons
Expensive
Default software could proof lacking for aficionados.
Bulky
8. TP-LINK Archer C7 Wireless Router

TP-Link's Archer C7 AC1750 Dual Band Wireless AC Gigabit Router is a basic router. It offers good throughput and good wireless coverage. It's the best budget Wi-Fi Router under $100 and, due to its combined speed of 1.75 Gbps, is ideal for those who want to enjoy Internet gaming and streaming. It also provides.75Gbps total bandwith that includes 450Mbps at 2.4GHz and 1300Mbps at 5GHz. It supports 802.11ac and comes with an easy setup assistant and offers a fast and hassle free installation process.
TP-LINK Archer C7 Wireless Router is a dual-band, three-stream 802.11ac (wireless-ac) router with an amazing range and great performance. It' usually costs around $100, so it's certainly worth it.
The router covers a broader area than other routers that cost up to three times more and it supports the fastest wireless speeds of most every other device. It comes with a good variety of basic features, including USB file sharing, Gigabit Ethernet ports, parental controls, media streaming, and guest networks. While it doesn't have advanced features such as Quality of Service controls, an iTunes server, a VPN server, jumbo frames, most people don't use those.
TP-LINK Archer C7 has four Gigabit Ethernet ports, along with two USB 2.0 ports for sharing storage devices, printers, and other networked devices. If you don't want certain people accessing files on connected drives, the router allows you to restrict their ability with a fundamental user accounts. A built-in DLNA media server allows you to stream media directly from USB-connected storage to your television, gaming consoles, set-top boxes, and televisions. It also supports one guest network per wireless band. You can control the amount of times the guest networks are active and you can constraint the total bandwidth guests consume.
The TP-Link Archer C7 is one of the routers to buy in 2020, essentially because it's such a great value. While it wasn't the fastest, it the mix of solid range performance and low cost gave it an advantage over the others.
If you're looking for an AC router and you're not concerned with, this router is a decent choice. It offers good throughput and good wireless coverage. It lacks a the extra perks other vendors have in their 11ac routers, but offers it half the cost.
Installation
The router comes with a resource mini disc and a quick-connection guide, but it was confusing. It was easier to use a "Web Set-Up" and simply connect to the already established wireless network and go right into the browser setup. The interface then provided instruction and then everything was soon up and running. It was that simple.
Pros
Affordable
Excellent wireless coverage.
Cons
Inadequate wireless settings.
Average throughput.
9. D-Link DIR-880L – Dualband AC1900 Gigabit Router
The D-Link DIR-880L Wireless AC1900 Dual-Band Gigabit Cloud Router provides great data rates, stable Wi-Fi signals, and long range with 802.11a/b/g/n/ac Wi-Fi Network Standards, 1900 Mbps Total Bandwidth, and Dual-Band 2.4GHz / 5.0GHz Frequencies. The router is simple to use and offers remote monitoring through D-Link's cloud feature. The USB 3.0 external port can takes a while to set-up and the Web interface may require a while to learn for those who used to work with D-Link's previous routers. It is one of the best routers D-Link offers home users. It's extremely affordable and worth the price.
The DIR-880L has three detachable antennas that go on its back. It's can be placed flat or wall mountable. It comes with a four Gigabit LAN, one Gigabit WAN port, one USB 2.0 and one power port, plus a recessed reset button and an on/off button. There's also one USB 3.0 port placed on its left side. You can use thee USB ports to host a printer. On the front, the there's a display of LED lights that reflect the status of the ports and the Internet and Wi-Fi connections. It has general excellent data rates, long range and stable Wi-Fi signals. It's simple to use, and can be remotely monitored via D-Link's cloud feature. The interface makes certain tasks easier and the visual network map is great for viewing your and it allows you to connect to a client.  It comes in a flat, basic design. Black construction. No antennae.
The DIR-880L I super easy to set-up. In fact, it's ready right out of the box, as it comes with a pre-configured Wi-Fi network with all the information printed on an attached label. All you have to do is power the router, connect the Internet (WAN) port into your broadband modem, and, you're set.
Pros
Long range, constant Wi-Fi ability
Excellent speed
Extremely easy to use
Cons
The Web interface might be a too contemporary for newcomers and old D-Link users.
10. Apple AirPort Extreme Base Station
Six antennas at the top allow for faster and stronger connection. Easy setup with Macs and iOS devices. The Airport Extreme Base Station reaches data rates of up to 1.3Gbps with three-stream 802.11ac technology. Wi-Fi also provides double the channel bandwidth with 80MHz-wide channels providing more room for data to flow faster. Apple focused on performance when it designed this router and made it longer and placed the antennas at the top, thus creating a higher platform for signal separation.
The AirPort Extreme has simultaneous dual-band 802.11ac Wi‑Fi, which means it communicates at both the 2.4GHz and 5GHz frequencies at the same time. So regardless of which band your wireless devices use, they'll instinctively connect to the best available band for the fastest conceivable performance.  802.11ac technology brings a smart, powerful beamforming antenna array. Most base station antennas release an equal and constant Wi‑Fi signal in all directions. But the beamforming antenna array is smarter — it knows where an 802.11ac device is on the network. Then AirPort Extreme targets its signal to that device. So your Wi‑Fi signal is stronger, clearer, and faster.
There are now six antennas – three for the 2.4GHz band and three for the 5GHz band. Together with 802.11ac wireless technology, they let you connect faster, farther, and with more power than ever before. The bar for Wi‑Fi base stations has been raised. In every way.
The new vertical design improves Wi‑Fi performance and saves valuable desk space. At less than 4 inches square, the router's footprint is smaller than competitors. And to keep everything tidy, even the power supply is built in. Which means AirPort Extreme takes up no more space than it should.
The unit is white, long and looks like a rectangular box. Such betters Wi‑Fi performance and at less than four inches square, it saves space.
Installation couldn't be easier. A set-up assistant is built into iOS and AirPort Utility for OS X. As soon as you plug it in and connect it to your cable modem or DSL, just follow the instructions on your Mac or iOS device. That's it.
Pros
Good looks and takes up limited space
Speedy and flawless.
So easy to set up and use.
Cons
No browser interface for this device, so PC users must download an initial configuration application for initial configuration.
Final Verdict
There are many wifi routers out there, so finding the best one isn't easy. We hope we at least gave you some pointers and advise to choose the best and most powerful wireless router for you needs. If you have any favorite router in mind, and its not listed here. Do let us know in comments and we would love to review.