Digital drawing has evolved a great deal lately thanks to the numerous drawing apps which allow creating a quick simple sketch on your Android phone or tablet using your finger or stylus pen.
Here is a list of the best free drawing apps on Android phones and tablets.
ibis Paint X
Ibis Paint X is a drawing app for Android, which works very well on your phone, but on tablets, It manages to provide the best results thanks to the larger screen.
The application provides all possible tools for free-hand drawing, from over 140 different brushes, such as airbrushes, pens, pencils, etc. Each of these brushes can be modified further in size and opacity.
During drawing, you can easily zoom in or out with a simple touch, rotate or select an area.
It supports drawing on infinite layers and for each layer, the user can change the opacity and transparency, duplicate, merge, add, subtract, etc.
As you can imagine, ibis Paint is an app suitable for those who  already know how to draw and who need a practical drawing tool to draw on a mobile device; it is true that the app can be used by everyone but for those who don't know how to draw it will be difficult to learn directly with this app.
A very useful feature, absent from the majority of drawing apps, is that you can create a video (in mp4 format) with the drawing process and distribute it to Facebook or YouTube. To install Tap here.
Adobe Photoshop Sketch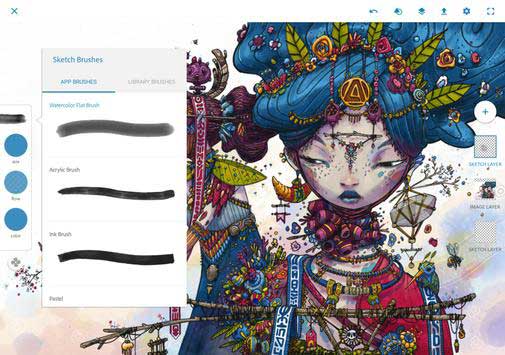 Adobe Photoshop Sketch is one of the best free drawing apps on Android phones and tablets.
The graphical interface is very intuitive and the app provides numerous pencil tools, brushes, erasers and an infinite variety of paints.
This app is recommended for professionals in this sector rather than beginners, but it can be tried by drawing enthusiasts as well. To install it from Google Play tap here.
Infinite Painter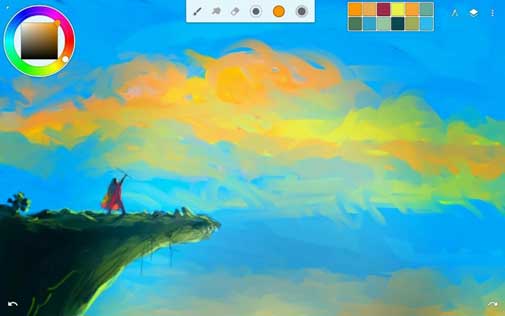 Infinite Painter is a drawing app that provides over 100 types of brushes grouped into categories.
The graphical interface is very well structured to facilitate work. Relevant buttons are all aligned in the lower bottom part of the screen, making them easily accessible.
The app allows you to create infinite layers and is optimized for the most used stylus pens.
It is possible to import pictures from the Gallery, directly from the camera or from the Internet. Drawings can be saved in sizes up to 2048 × 2048 and in JPEG, PNG and PSD formats.
Even if not all options are available for free, the app offers enough options to draw on your phone or tablet as it is. To install it tap here.
Sketch – Draw & Paint
Sketch – Draw & Paint is another Android phone or tablet drawing app, which provides numerous brushes, graphic and basic drawing tools.
The app has a very intuitive graphical interface; it is free and does not require any registration. To install it tap here.