Looking for an efficient and reliable printer for sticker printing?
They could be either paper prints or vinyl stickers.
Here we've reviewed and listed some of the best sticker printers you can buy right now.
Though there are a lot of quality color printers available on the market, using these expensive printers with premium label sheets for stickers can quickly add up the costs resulting in loss.
So, we're here to help you choose the best label and sticker printing machines without breaking bank and still achieving good quality prints.
As you may already know, sticker printing is not the same as conventional document printing.
So to help you make the best decision for your small business, below we've provided reviews of some of the best printers for both vinyl and paper sticker printing.
If you have or are planning to start a shirt or mug printing business, and are looking for heat press printing or sublimation printing. Check our detailed guide on some of the best dye sublimation printers.
Best Printers for Vinyl Sticker Printing & Label Printing: Our Top Picks
Here is quick run down of some of the best printers for the sticker or label printing process.
Epson XP-7100 Expression :- An all in one Entry Level Printer for Premium Productivity Features.
Canon PIXMA PRO 100 :- Professional Printer with 8 Dye Based Inks [Editor's Choice]
HP Officejet 3830 Wireless all in One Printer :- [Amazon Best Seller Printer]
Canon PIXMA TS6220 :- One of the cheapest Printer for Stickers [Vinyl and Paper]
Epson Stylus R2000 :- Wide Format and Expensive Sticker Printer for Professionals.
Epson Workforce 7710 :- Excellent Print Quality.
Epson XP-7100 Expression (AIO) Printer – [Best Printer for Productivity]
The Epson XP-7100 Expression is an All in One or MFP Entry level Inkjet printer with premium productivity features. The printing quality of stickers is really great as compared to the others on the list.
Some of the features of Epson XP-7100 is that it offers 5 ink cartridges instead of the usual four. Apart from the normal black cartridge, it comes with an advanced and more powerful black ink for color photos which provides great tonal range.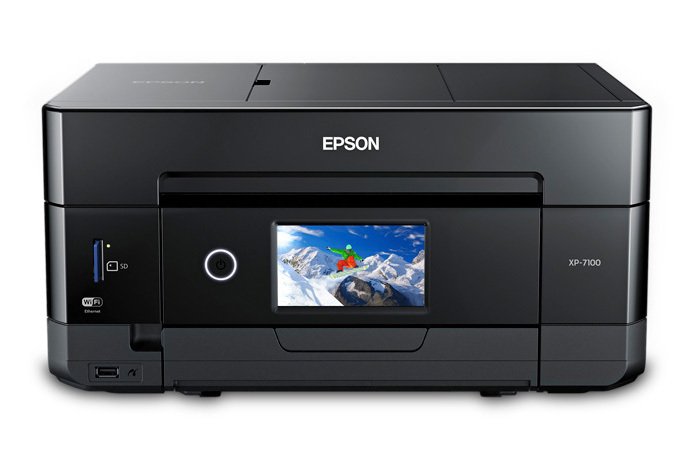 The exceptional sticker and label printing quality for beginners of this printer make it stand out from the crowd.
The printer has a speed of around 11 pages per minute for color or photo printing and 15 ppm for monochrome or black and white printing. It is indeed a fair speed considering the print quality you get with this device.
Epson XP-7100 Expression is loaded with tons of great productivity features. Another important feature of this printer is the ADF (Automatic Document Feeder) with a 1200 x 4800 dpi scanner . It enables auto scanning and auto 2 sided printing. The 30 pages single pass ADF enables it to scan 30 dual sided pages automatically once placed on it.
Unfortunately it suffers from the same issues, print cost per page is still quite high.
Epson XP-7100 Expression is a wireless all in one printer on a budget. It offers great connectivity features including connection via WiFi, WiFi Direct (For printing via mobile or tablet), Ethernet and a USB.
But as most of the printers listed here, it also has the same issue of high printing costs per page. It costs around 6 cents for a monochrome print and around 14 cents for a color page. This might increase in case of label prints or paper and vinyl sticker printing if all the space is not covered.
The low upfront cost of this printer is attractive to many, but the high running costs of this printer makes it feasible only for low volume printing needs. Therefore, consider how much you're planning to use your printer before purchasing. As in this case, it'd prove to be much more cost effective to choose a printer with lower operating costs, if you're planning on using this printer for high volume printing.
PROS
All in one Color Inkjet Printer with ADF Scanner Function
Five Ink Cartridges for Vibrant sticker color prints.
Wireless and bluetooth connectivity with SD card, USB, WiFi, ethernet and mobile devices. 
Non Expensive AIO printer
CONS
High Per page color printing costs.
Useful for low printing volumes and mediocre prints.
A bit flimsy construction.
---
Canon PIXMA TS6220 Printer
 – [Cheapest Printer for Vinyl Stickers]
Canon Pixma TS6220 is a versatile wireless inkjet all in one photo printer. It is capable of handling a variety of needs. It is not a specialized sticker printer. However, it is one of the best in terms of what you get for your money.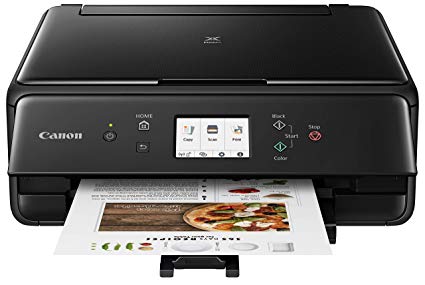 The printer uses a total of 5 ink cartridges. There are two pigment based black ink cartridges and three dye based color ink cartridges for wide tonal range. For a budget price of around $100 this is really a lot more to ask for.
Some of the other features of the printer include duplex printing and printing wirelessly via bluetooth using Airprint or Mopria.
The printing resolution of the printer is 4800 x 1200 dpi for detailed and clear graphics and photos.
The scanner offers ADF technology with a resolution of 1200 x 2400 dpi and can scan documents or papers of A4 size.
It has a good photo printing speed of 15 images per minute for black and monochrome printing and 10 Images per minute for color prints.
The biggest drawback of this Canon Pixma TS6220 is the per page printing cost is quite high. It costs around 5 cents for a black and white photo or sticker whereas a full size color sticker would cost anywhere from 12 to 16 cents.
So, where the upfront buying cost for Canon Pixma TS6220 is quite low, its printing cost is very high. So bear in mind while buying this for your sticker printing.
If you are looking for the best quality of printers for stickers and have massive printing needs at a budget, you can buy Epson EcoTank printer, which is a much better option and results in great printing imagery.
PROS
Exceptional Print quality for the price. (Especially photos)
Cheap All in One Printer with robust mobile connectivity.
Two paper Input tray and small footprint for usability.
CONS
High running and operating costs.
No automatic document feeder for faster printing.
Lacks NFC and SD card support.
---
Hp Officejet 3830 All-In-One Wireless Printer – [Best Printer for Paper Stickers]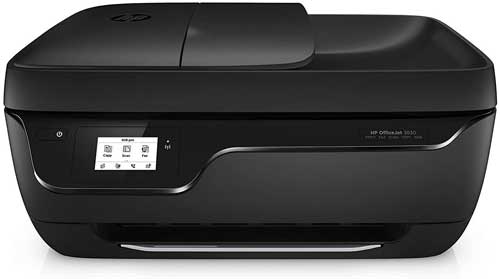 HP Officejet 3830 is a top rated all in one wireless printer. It is able to print, copy, scan and fax. This printer is highly functional as it can be operated from anywhere and on the go with the help of your smartphone. According to HP official team members, this HP Officejet 3830 printer is great at paper sticker printing.
It also allows border-less printing and is also known as a popular 4×6 photo printer. The good thing is that the HP Officejet 3830 all in one wireless printer is an Amazon Choice product. It is also the no.1 best seller in the Printer category. Moreover you get HP instant ink and amazon dash replenishment ready. This means you are never out of ink or anything.
Some of the other notable features of HP Officejet 3830 printer is that it is wireless, touchscreen, auto document feeder and is energy star compliant. You can also buy optimal high yield ink cartridges which can allow more than two times more printing than normal cartridges.
HP Officejet 3830 is quite a compact printer and can fit on your desk or small places easily. Now you can print your stickers or labels wirelessly from your smartphone or tablet while saving a lot of money on inks. The printer supports printing sizes of 4×6 inches, 5×7 inches, A4 paper and legal size page printing too.
HP also offers free product support for HP Officejet 3830 printer in association with Amazon. So in case the printer doesn't work as expected, you are eligible for dedicated 24 hours, 7 days a week support for up to 90 days. This printer HP Officejet 3830 is extremely cheap for what it offers and also it comes with a limited one year warranty.
---
 Canon PIXMA PRO 100 Printer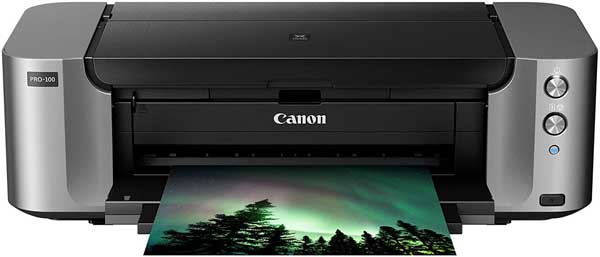 Canon Pixma PRO 100  is a wireless and professional color inkjet printer. Though it might feel like a pricey printer, it is quite a cheap vinyl and paper sticker printing machine. It is the only printer on the list which is an 8 dye based ink system. This ensures beautiful and vibrant colors and gradients. Five inks are dedicated for color prints and 3 of these are for gray scale inks for astounding black and white prints.
Canon Pixma Pro 100 is an advanced inkjet printer for stickers which also adds up pretty high printing cost per page. You will have to bear it for the quality you would get. This printer is used for high fidelity color printing purposes too.
The average speed of this printer is 1 minute and 17 seconds per page. Although it's slow compared to other color printers, quality color printing always takes time. The Canon Pixma Pro 100 features optimum image generating (OIG) system which reproduces colors with best ink placement and combination to get extremely wonderful graphics.
The tray capacity of the printer is 150 sheets of plain A4 sized paper, 10 sheets of letter size or 1 sheet of A3+ size pages. It can also accommodate up to 20 sheets of 4×6 inch photo size paper to print 4×6 photos.
Canon Pixma Pro 100 is a premium printer and it can print 4800×2400 dots per inch which is ultra high resolution for images, labels and stickers. You can print labels, stickers or other graphics of up to 13×19 inches. Also the Print studio pro plugin software helps in stress free and seamless photo printing at all times.
As it is a wireless printer, you can operate it with the help of mobile or tablet easily (mobile photo printing).
Canon Pixma Pro 100 has built in CD and DVD printing capabilities. The built in WiFi system allows you to print anything from anywhere. This printer also allows computer free printing with the help of Pictbridge. Thus you can print your photos directly from your DSLR, camera or smartphone. It also offers Ethernet and USB connectivity for a more versatile, easy printing solution.
The good news for Apple users is that this is an Airprint compatible printer. Canon Pixma Pro 100 allows you to print photos, email, or documents directly to your printer from your apple devices without the need of installing drivers etc.
Overall, the Canon PIXMA Pro100 is a real deal if you are looking for a perfect printer for stickers and labels.
---
Frequently Asked Questions [FAQ's]
Q1. Which are best paper stickers or vinyl stickers?
In regards to the best printers for sticker printing, we will have to address which type of material to choose for your labels or stickers.
So the question arises: paper stickers or vinyl stickers?
You know you need a sticker to get your job done.
But which one?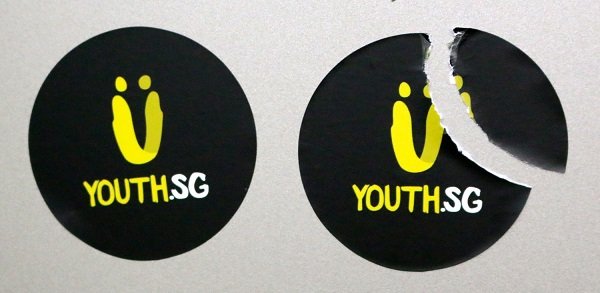 Let's be very clear, honest and loud on this one…
Paper stickers are not durable as the vinyl ones. You need to consider that your sticker must withstand any weather conditions. Either you have to place the sticker on the wall, door, window or whatever the case. The better and more secure option is to use Vinyl.
PVC Vinyl stickers are a bit more expensive than their counterparts i.e paper stickers but they are not only more durable, they also hold their color better. They stick better, they are good looking, are scratch resistant and can't peel of quickly. There is no need to keep it reapplying as in the case of the paper stickers.
Plus vinyl stickers are not only an excellent choice but they're also more cost effective than paper ones.
Q2. How do I print vinyl on inkjet printers?
A lot of people question if we can print vinyl stickers on ordinary printers or inkjet printers?
Well the thing is that the actual solution to print vinyl stickers, you have to buy Vinyl Printing Machines. Vinyl Printing machines are designed specially for vinyl printing.
But in case you are not able to afford the machine now or maybe due to any reason. You can use any Epson, Canon or HP Inkjet printer to print vinyl stickers.
For vinyl sticker printing you have to buy printable vinyl sheets.
To Print vinyl on Inkjet Printer you will need to have at least a 4 color inkjet with a minimum print resolution of 1200 dpi.
The one side of vinyl sheets is an adhesive one.
Now what you will do is, load the printer with an 8×11 inch printable vinyl sticker sheet you have bought. Place the adhesive side facing upwards so that the print is made on the non-adhesive side.
Choose the design of the label or sticker you want to print and make vinyl stickers and click on print.
There you go, you should have now know how to successfully print a vinyl sticker sheet on an inkjet printer.