Looking for the most economical and best Cut 50 Plasma cutters? Well, look no further as we have brought you a list of some of the best plasma cutters you can buy right now. A plasma cutter is a must have tool for any welder.
Plasma cutters were first invented in World War II. Later laser technology came to cut metals and alloys. In early 1990's plasma cutters faced a setback, but laser cutting was also not a perfect fit for everybody.
With the advancement in technology, plasma cutters quality kept on improving. Now plasma cutters are much more portable, advanced and suits the needs of everybody.
Today, we will talk about the best Cut-50 Plasma cutters you can buy, also known as Cut50 or Cut50D cutters.
​What is a CUT 50 Plasma Cutter?
A plasma cutter is a device which is used to cut metals using an ionized and super heated electric gas also known as plasma. The plasma cutters can cut through any metal with precision, such as aluminium, copper, brass or any other conductive metals. Plasma cutting is a process of cutting metal by means of hot plasma.
The low cost of Cut 50 Plasma cutter makes it highly popular method to cut metals as laser is pretty expensive method to cutting metals like this. They are used commonly with welders who work in their junkyards or even at professional places like in manufacturing plants and automobile industry.
The Cut50 is actually rated as the cutting capability of a plasma cutter. Cut50 can easily make a clean cut on 1/2 inches steel or metal. But you need to make sure to go really slow while cutting to get a clean cut.
Things to Consider Before Buying Cut 50 Plasma Cutter
​When planning to buy a cut 50 plasma cutter, you must know a few important things to consider. Otherwise you might buy one with specs you don't need or the one which lacks the features you require. Let's check what you need to look for when buying your first plasma cutter.
Metal Thickness
Knowing the metal thickness you might be dealing beforehand is a must before you buy your plasma cutter. As the amperage of the plasma cutter depends on the thickness of the metal or steel, the precision and cut quality depends on accurate selection of the type of plasma cutter you are going to buy.
As an example, if you buy a plasma cutter meant for 1/4 inches and you cut a 1/2 inches metal. Thought it would get the job done, but you would compromise on the quality of your cut and it would not be as precise as the one which is meant for 1/2 inches metal. Because you would be getting half the amperage in this case.
The amperage of plasma cutter designed for 1/2″ metal is almost 50 to 60 amps. Whereas, the plasma cutter meant for 1/4″ have amperage of around 25 amps.
Cutting Speed and Duty Cycle
The next thing to consider is the cutting speed and duty cycle of the chosen cut 50 plasma cutter. Cutting speed is measured in Inches per minute (IPM). So if you have metals with different thickness, it is always recommended to buy one with higher amperage. This will ensure better quality and clear cuts.
The duty cycle of plasma cutter is the amount of time cutter needs to heat up and time taken to cool down after its turned off.
Effect of Plasma Cutter on other devices
Plasma cutters come in different types. There are the ones which use high frequency and the ones with low frequency. The plasma cutters with high frequency have a pilot arc in them and can affect electronics components of devices like computers or office equipment.
On the other hand, the ones with lift arc in them run on low frequencies and don't affect electronics or other appliances as such.
Wear and Tear
Any tool or equipment which you buy for work do have parts which wear off and either need repair or replacement. Similar is the case with plasma cutters and you might have to replace electrodes, nozzles and shields from time to time.
That is why always look for a quality Cut 50 plasma cutter. High quality ones would feel a bit expensive as an upfront cost. But they last longer than low quality ones. Always check for life of all consumables used in a specific plasma cutter.
Though there are a lot of good Cut50 plasma cutters under 500 dollars, and may be you can find a few in under 200$ range. But they might prove a lot expensive in the long run.
Portability
Cut 50 Plasma cutters have become a lot portable than before. But still you must try to make sure that it is portable. As most of the times, you will have to move your plasma cutter from one place to another even in a workshop.
Also sometimes, you might have space constraints. So its better to choose one which is not too bulky or big.
So these are some of the things you need to consider before buying your Cut 50 Plasma cutter for your work.
Top Cut 50 Plasma Cutters for 2020
Before a further delay, let's jump straight into some of the most economical yet useful and best Cut 50 Plasma cutters available on the market, today.
1. Lotos LTP5000D 50 Amp Cut 50 Plasma Cutter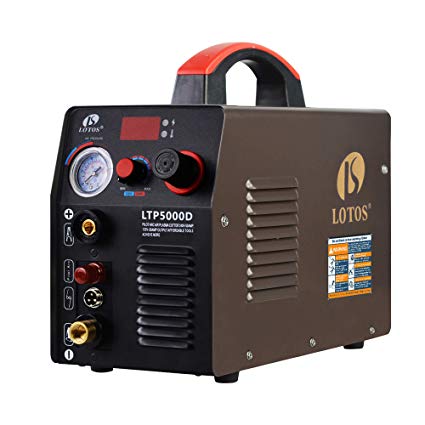 Lotos has been manufacturing state of the art cutters for welding industry and their quite popular yet cheap Cut 50 Plasma cutter Lotos LTP 5000D is no different. If you ever ask any professional for the best quality cutter in budget, you will be recommended to buy Lotos LTP5000D.
Lotos LTP5000D is a highly top rated Cut 50 Plasma cutter these days. It is a dual voltage 1/2 inches Pilot arc cutter. This means it is a powerful high frequency plasma cutter which can cut through any type of thick or thin surfaces precisely with the help of its MOSFET transistors.This plasma cutter is quite durable and it is perfect for even dirty or uneven surfaces. It would make sure to give you a highly clean cut on any metal without any slag.
Moreover it uses PAPST, which is a renowned German cooling technology. This assures that you get a very nice and consistent performance. For cutting it induces a very steady and thin flow of gas which ensures accuracy in cutting. It weighs only 25 pounds so it is easy to carry and is portable.
Lotos LTP5000D Cut 50 Plasma cutter also is a lot more power efficient due to the usage of switch power inverter technology. Not only it can be used for personal usage in your backyard but its also a perfect fit for professional use.
Features of the Lotos LTP5000D Cut 50 Plasma Cutter
Pilot arc Torch
50 Ampere Digital Inverter
Weighs only 25 pounds and is quite portable.
MOSFET transistors ensure uniform output for high frequency power output.
Automatic dual voltage Stabilization – Can be used on 110 or 220 Volts using a pigtail.
Max three quarter severance cut.
Half Inches clean cut
PAPST advanced German cooling system.
What Comes in the Box?
The Lotos LTP5000D cut 50 plasma cutter comes with the following items in the box.
Plasma torch
Air hose connections
Air regulator
Air hose
Ground clamp and cable