I truly believe that Whirlpool is at the top of the most popular washing machine brands worldwide.
The home appliances manufacturer releases each year new models and comes with innovations such as 6th sense or 6th Color Sense.
Whirlpool is an American manufacturer activating/which has been in business since 1911 when they started to develop the famous washers.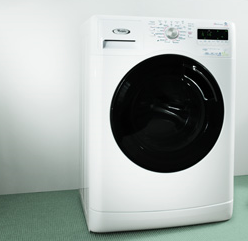 Why Whirlpool produces some of the best washing machines ?
With over 100 years' experience, Whirlpool washing machines are extremely popular all over the world. The company makes both front and top load washers.
Why are Whirlpool washing machines different from the competition ? In order to prove that they can make the best washing machines, the manufacturers come with some innovations that bring huge benefits for us as consumers.
Here are some of the innovations found on most Whirlpool models:
6th Sense
It's a technology which has been incorporated into washing machines that allows wash load recognition by means of sensors, and thus resources are adjusted automatically saving up a lot on energy and water consumption.
The laundry wash time is also reduced as efficiency is increased. In addition, protection against detergent foaming is also ensured in case the washing machine detects a change in pressure, as well as in the event of drum/tank rupture flooding is prevented by blocking the water pump. One of these models – for a competitive price – is Whirlpool AWOC 52200.
What is the 6th sense color technology?
Depending on the program you chose (for whites, colored or blacks) the washer adjusts the program so that the fabric's colors are protected while at the same time ensuring a qualitative wash for your laundry.
No more colors coming out and staining your clothes and the cleaning quality will be exemplary even with faster programs and 15o temperatures. The automatic dosing feature for liquid detergent is on every medium and top range models of the manufacturer.
Depending on the program, your Whirlpool washing machine will suggest an optimum amount of detergent and so saves money.
Most Whirlpool washing machines range from A+ to A+++, so they have a very low water and power consumption, and this is possible thanks to the quick program for clothes that aren't that dirty but manages a great wash in only 15 minutes.
Don't even think about using this program with a larger load of clothes or laundry which are very dirty, it has been designed for clothes that need refreshing (such as the clothes we wear in the summer).
These are the most important technologies of Whirlpool washing machines. There is a wide variety of models and before purchasing a model read these general advice carefully and take them into account.
Whirlpool Washing Machines Common Problems
Of course for any washing machine brand there are certain specific issues of the previous model range.
For the top load models we need to make sure that the openings of the dispenser (on the cover/lid) aren't clogged because the washer won't be able to draw detergent otherwise.
It is also very important to clean out the lint from the filter and protect its durability from highly calcareous water by using and anti – limescale solution for washers.
Try to avoid basic models (those without 6th sense) as they don't have the great washing results you get with medium and high range models.