If you need to transfer large files between different devices, such as from a computer to another computer or phone, from a phone to a computer or from a phone to another phone, you can use Wi-Fi direct transfer without being connected to the Internet.
Of course, devices must be equipped with Wi-Fi hardware.
It's obvious that you can transfer files very easily with WhatsApp and Telegram, but you can't transfer files that are too large (with WhatsApp max. 100 MB), plus, they take up precious GB if you have a limited mobile data subscription.
How to transfer files from one device to another without cable and without the internet?
It's actually really easy, you need to install a Wi-Fi transfer program that basically creates a hotspot and then the other devices connect to it, so you can transfer files between connected devices.
For example, you have numerous photos and videos on your mobile phone and want to transfer them to your laptop or computer.
Install a Wi-Fi transfer app on your phone, then with your laptop you connect to the hotspot you created on your phone, and you can transfer your photos and videos to your laptop quickly directly via Wi-Fi.
Here's a list of the best programs and apps to transfer large files directly over Wi-Fi.
Zapya
Zapya is one of the best programs to transfer large files from a device, which can be a computer, laptop or smartphone, on other devices.
It is extremely simple to use: on a device install the Zapya program, it will create a hotspot using the Wi-Fi hardware, then with the other device you connect to this hotspot and you can transfer any file you want.
The transfer speed is very high, basically that of the Wi-Fi network, dozens, maybe even hundreds of times higher than the speed of the Bluetooth. It can go over 10 MB per second if the hardware allows you.
Plus, Zapya has no limit in terms of file size, so large files can also be transferred, but the transfer speed is lower if the file is larger.
Zapya is a free program/application supported by advertisements, viewed during use.
On the computer, advertising is not so disturbing but on the mobile phone it is quite invasive and bothersome.
Download Zapya for Windows, Android, macOS, iOS.
Share Music & Transfer Files – Mi Drop
Developed by Xiaomi, Mi Drop is an app dedicated for transferring any type of files (music, photos, videos, documents, applications, etc.) between phones and Android tablets without using mobile data, so without being connected to the Internet.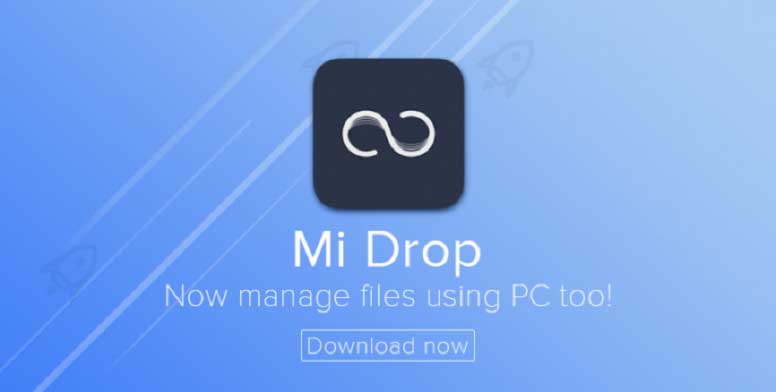 It's extremely simple to use: Install the Mi Drop app on the two Android devices between which you want to transfer, on the device that sends press "send" and select the file you want to transfer.
If you have the location service turned off, the app will ask you to activate it so it can find the other device.
On the device that receives press "receive", authorize the device that sends to connect and the transfer will start to transfer immediately.
Download Mi Drop from the Google Play store.