One of the newest washing machines models from Samsung, is undoubtedly the Eco Bubble WF80F5E0W2W model.
This new washing machine managed to bring something new among these household products technologies, which are very important for every family, namely the tech that defines its name, the Eco Bubble.
What exactly is this Eco Bubble system, and what differentiates it from a washing machine that does not have this system? Let's discover.
Eco Bubble , a first class technology for Samsung washing machines.
This system is based on a bubble generator acting on the detergent and dissolving it.
Next one is the air blowing part, which creates a rich foam that enters the fabric, even when washing at lower temperatures.
What makes EcoBubble a  great option ?
Well first, with saving energy consumption up to 70% compared to a regular washing machine, running the same program.
Key Features of Samsung Eco Bubble WF80F5E0W2W
For people with very little time and who want to use the same washing program for several cycles, there is available Memo the Last Program function. It allows the user to program it the same way as the previous washing, without the need of a change or settings update.
This function works even if the washing machine was stopped.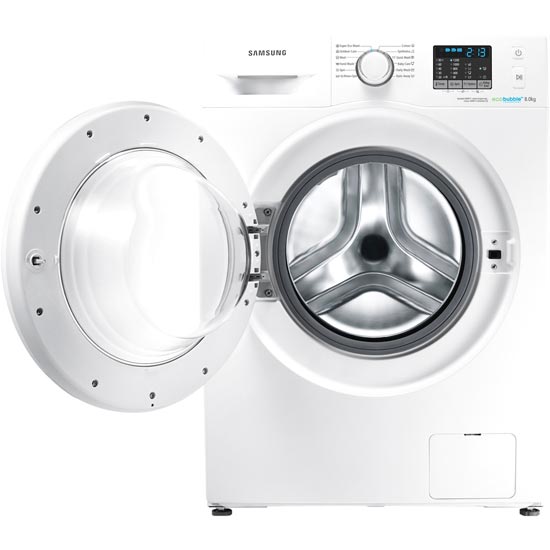 The Diamond drum is designed to ensure protection of fine fabrics (linen, silk, shirts, etc.) with an unconventional design that prevents catching fibres in the tank slits. It is a very important function but not decision-making in selecting a washing machine.
We also noticed the quick wash program lasting only 15 minutes, a function that saves energy and time, used when washing laundry that does not require a very complex washing mode.
Pro and cons compared with other models
The Eco Bubble WF80F5E0W2W washing machine has an LED display and touch control, which is quite typical, for most of the latest tech new washing machines.
It has a normal loading capacity for top models, namely 8 kg, spin speed is "middle class "with 1200 rpm. We have to mention that, such models as Whirlpool AWOC81401 have 1400 rpm, here is a minus for the item presented in this review.
In addition to other washers , we discover the noise level is only 76 dB during spinning and 62 dB when washing. For families with small children, there should be remarked the safety lock function that is found on this model.
The price of this model is 400 Gbp ( 600 Usd), being an average towards expensive price, for high end choices.
The final rating of this product is 7 on a scale from 1 to 10, being disadvantaged when compared to other models in the same price class, by the lack of truly effective functions but also lack of common specifications.